15.10 > 17.10.2015 – Transcultures @ Voix de femmes #12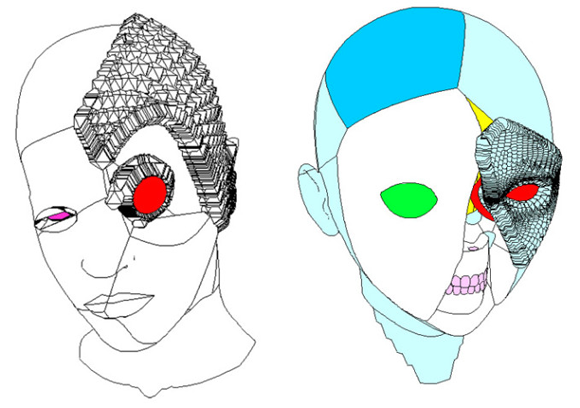 As part of the Festival Voix de Femmes showcasing contemporary feminine creation in three Belgian cities, Transcultures presents works of the digital artist Françoise Gamma. The festival also presenting the installation, Spectrales, by Montreal artist Alice Jarry who is in residence at Transcultures
Enigmatic artist of the famous and no less enigmatic Computers Club, Francoise Gamma has always been discreet, thrifty … Unlike some Net artists who use the web and social networks to amplify the echo of their voices, she seems to use it sparingly of matter and adds only very little of herself. Some pixels at most. Just what's necessary. In recent years, she gives the impression of having made herself even more elusive. And yet, just a simple search is needed to see that her work continues to live, share and spread on the net, while being regularly exhibited in museums and international projects on new media.
Her characters-avatars speak of everything that is out of sight, clichés, emotions that we so easily glue on them, eternity of a moment without a past and without future. She creates a complex, organic and cybernetic world all at once, a snapshot of post-humanity in stopped perpetual motion.
For her exhibition in the framework of SPAMM-SuPer Modern Art Museum, one read: "And the light of grace distended bodies, twisted, segmented and defying all laws of physics, which are loosened before our eyes, bad drawings of a new type of video games … this young woman not only renews the art of drawing, but also that of representation … ".

Informations
15.10 > 17.10.2015

Le Manège, Caserne Fonck

Rue Ransonnet, 2 Liège

14€/18€ the day (presale) 18€/22€ (on site)