17>19.03 – Heidsieck, écrire à haute voix – Maison de la littérature – Québec
Posted on

14/03/2016

in 2016, Agenda, All news, City Sonic, International, Partners, Philippe Franck, Poetry, Production, Projects, Soundart, Transatlantiques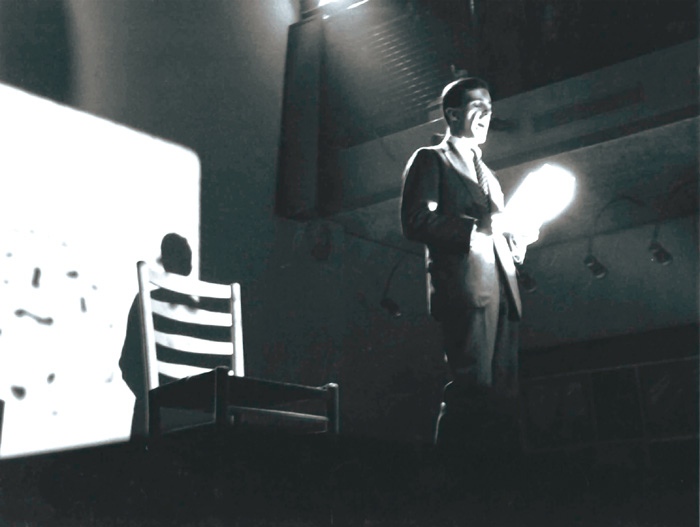 Rhizome (Québec) and its partners, the House of Literature and Le Lieu – the contemporary art center, offer a mini festival built around the legendary figure Bernard Heidsieck. This event is both a tribute and a look at current practice, both in its richness in diversity, poetry-action and sound poetry today.
At the House of Literature of Québec, one can discover  the documentary film "Bernard Heidsieck: Poetry in Action' directed by Anne-Laure Chamboissier Franck and Philippe in collaboration with Gilles Coudert, attend discussions on the work of this great French poet-performer , lectures  and a panel discussion on the importance and influence of oral literature and especially to experience performance related to his poetry … performed by poets from Quebec, France and the Federation Wallonia-Brussels (Jean-Pierre Bobillot, Richard Martel, Anne-James Chaton, Renée Gagnon,& Stuff aka Éric Therer + Philippe Franck, André Marceau, Chantal Neveu, Jonathan Lamy, Jean-Yves Fréchette).
Informations
17>19.03

Maison de la littérature

40 Rue Saint Stanislas Québec

gratuit
Production
Rhizome production. Partnership: Maison de la littérature Québec – Le Lieu – Mois de la Poésie.  Le projet est rendu possible grâce à la collaboration de Transcultures et du Mois de la Poésie (Québec) ainsi qu'au soutien financier du Conseil des arts et des lettres du Québec, de l'Entente de développement culturel intervenue entre le ministère de la Culture et des Communications et la Ville de Québec, du Conseil des arts du Canada et de la IXe Commission mixte permanente Québec/Wallonie-Bruxelles 2015-2017 soutenue par le ministère des Relations internationales du Québec et Wallonie-Bruxelles International.