28.05>12.06.2016 – Digital Echoes @ BAM Mons – Nicolas Maigret + videoart selection
Posted on

10/05/2016

in 2016, Agenda, All news, Artists, Arts Numériques, Belgium / FWB, Distribution, Exhibitions, Isa Belle, Jacques Urbanska, Paradise Now, Production, Projection, Projects, Transcultures team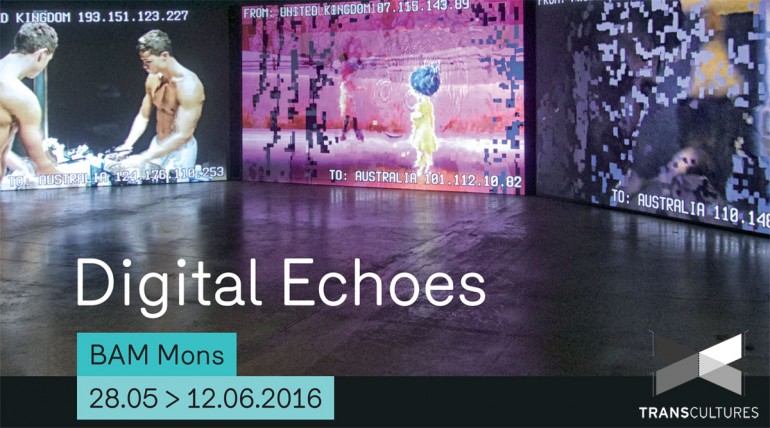 Invited by the BAM, Fine Arts Museum in Mons to offer a selection of digital works echoing the 'First videographers, Terry Fox / Bill Viola' shown at the Fine Arts Museum, Transcultures presents The Pirate Cinema de Nicolas Maigret (France) a connected installation, which shows the invisible activity and geography of the peer-to-peer sharing process, and a selection of videos (by Christophe Bailleau, Régis Cotentin on a music by Paradise Now, Natalia de Mello on a music by Isa Belle Paradise Now, Thomas Israël, Radio Prague, Pao Paixao on a music by Phil Maggi, Jacques Urbanska & Paulo do Santos, François Zajéga on a music by Gauthier Keyaerts) where sounds and digital images interact.
The Pirate Cinema (installation)
In the context of omnipresent telecommunications surveillance, "The Pirate Cinema" makes the hidden activity and geography of Peer-to-Peer file sharing visible. The project is presented as a monitoring room, which shows Peer-to-Peer transfers happening in real time on networks using the BitTorrent protocol. The installation produces an arbitrary cut-up of the files currently being exchanged. This immediate and fragmentary rendering of digital activity, with information concerning its source and destination, thus depicts the topology of digital media consumption and uncontrolled content dissemination in a connected world.
Informations
28.05>12.06.2016

10 > 18:00 (closed on Monday)

BAM – Musée des Beaux Arts de Mons

8 rue Neuve Mons

free for Digital Echeos – 9/6€ for the exhibition
Production
Partnership – Transcultures > Pôle muséal de la Ville de Mons