21>26.11.2017 | GFX Free Error- The Wrong New Digital Art Biennale Istanbul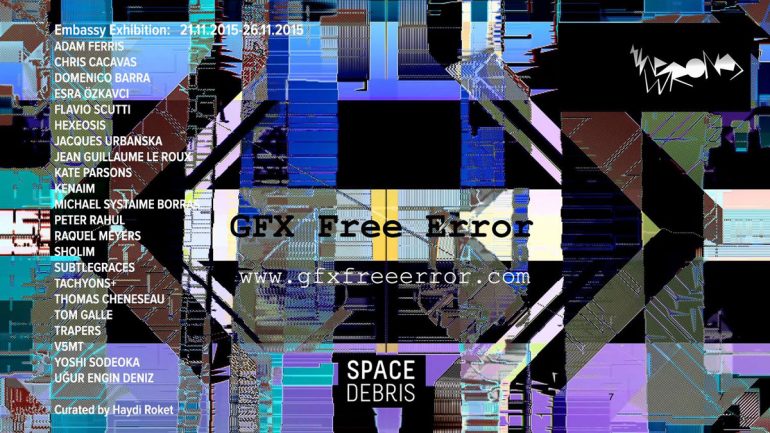 GFX Error happens when video card starts malfunctioning and becomes unable to project the image. But does a broken image represent a fault or it's a new reality all together? Do we merely create new realities from these faults? If it's the sole truth, then what happens to those broken realities around us? Sometimes, our vision is not what it seems and it always changes when we look at visual inabilities.
Artists: Adam Ferris, , Art2.Network (Franck Soudan + Jacques Urbanska), Chris Cacavas, Domenico Barra, Esra Özkavcı, Flavio Scutti, Hexeosis, Jean Guillaume Le Roux, Kate Parsons, Kenaim, Michael Systaime Borras, Peter Rahul, Raquel Meyers, Sholim, Subtlegraces, Tachyons+, Thomas Cheneseau, Tom Galle, Trapers, V5mt, Yoshi Sodeoka, Uğur Engin Deniz.
Curator: Haydi Roket
Space Debris is the Wrong* Embassy in Istanbul, Turkey. A preview of the online pavilion curated by the Turkish new media artist Haydi Roket title "GFX Free Error" will take place at Space Debris from November 2st to 26th as part of the Wrong digital biennial, accessible worldwide on November 1st.
The online edition of the exhibition will open on November 1st with the rest of the Wrong Digital Biennale network gfxfreeerror.com
Informations
21 > 26.11.2016

Space Debris

15 Kemankeş Karamustafa Paşa Mahallesi, Hoca Tahsin Sk., 34425 Beyoğlu/İstanbul, Turquie

gratuit
Production
THE WRONG EMBASSY NETWORK 2017 consists of art Institutions, galleries, and artist studios that serve as meeting points for generating live events, AFK/IRL exhibitions and lectures. Part of the exhibitions –online pavilions—are accessible with a simple internet connection.