04.07 > 05.09.2021 | Tabula exhibition – Collégiale Saint-Vincent à Soignies – Jean-François Octave + Paradise Now – ARTour 2021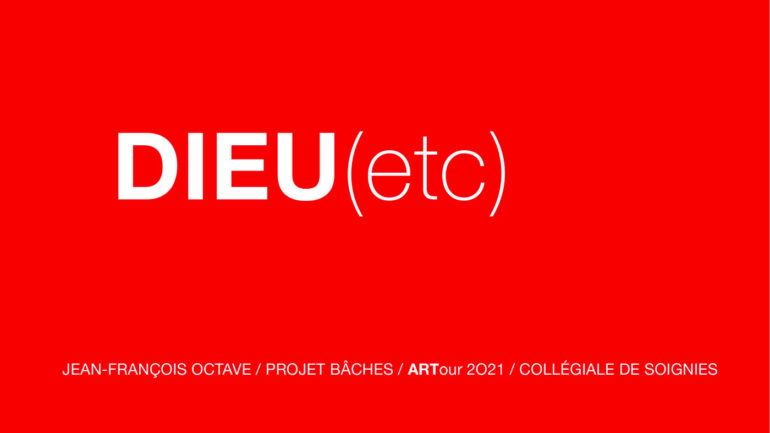 Proposed in upstream of the Biennale of contemporary art and heritage ARTour 2021 on the theme "The conjugated image (links between image-text-sound)", this exhibition by Belgian visual artist Jean-François Octave is built from a "sign", an index observed in the Roman Church of Soignies. The "Tabula" was designed by Bernardin de Siena at the beginning of the 15th century. It is one of the first "logos" in the history of image.
It combines the 3 interlocking letters J.H.S for Jesus the Savior of Men surrounded by a radiant golden disc. The trinity in one. This "acronym", initially condemned by the church as heresy, was accepted in 1622 by the official congregation of "fine propaganda" at the origin of the modern term "propaganda".
It was a question of conceiving a sign which is at the same time, a word, an image, a concept to see, to read, to say, separately or in whole; Jean-François Octave has always built his educational and artistic approach on observation, criticism of signs of our modernity (see Heysel station in Brussels).
It is also a secular artist's reading of the visual score of the religious that has nourished the history of art for 1,000 years. The Tabula in 2021 is the tablet, the screen on which all the messages of the "videosphere" pass.
The exhibition (on the first floor of the church) which combines existing works and new visual productions is materialized in large format tarpaulins, digital prints, paintings on frames, photos and documents presented on large tables.
Jean-François Octave invited Paradise Now (Philippe Franck's sound art project) to compose an immersive, meditative musical environment, traveling between electronic landscapes, choral singing and impressionist post-rock which will be broadcast in a loop in the entrance (stairs) leading to the exhibition.
Jean-François Octave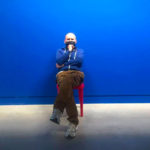 Jean-François Octave, born in Arlon in 1955, is a Belgian designer, painter and architect claiming to be both Pop Art and Conceptual Art.
After studying architecture at the Institut Saint-Luc and then at La Cambre (Brussels), he began working for the magazine Soldes – End of series, before making covers for Les Disques du Crouscule / Factory Benelux1 and posters for the concerts of Young Marble Giants, A Certain Ratio or Tuxedomoon at Plan K.
In 1986, he represented Belgium at the Venice Biennale. He has since exhibited in Brussels, New York, Copenhagen, Caen, Paris …
Until 2021, he directed the workshop "Image Dans le Milieu" at the Field of Plastic and Visual Arts (Arts au Carré) in Mons2.
Paradise Now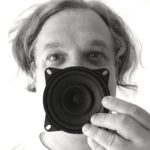 Sound, intermedia and multifaceted solo project initiated by Philippe Franck (BE/FR) since the 90s. He composes climate-changing soundscapes, cinematic or sometimes post-pop / rock hybrid pieces using electronic processing, keyboards, guitar, bass, vocals and singing bowls.
He has worked closely with various videographers (Régis Cotentin, Hanzel & Gretzel), poets (Ira Cohen, Gerard Malanga, Werner Moron in Les ours bipolaires, Eric Therer for the project & Stuff), choreographers (Nadine Ganase, Manon Oligny, Karine Ledoyen ), digital artists (Philippe Boisnard, Franck Soudan, Jacques Urbanska, Thomas Israël) and other sound artists (Christophe Bailleau within the duo Pastoral, Gauthier Keyaerts in Supernova, Isa Belle). He has also produced and participated in several records on various independent labels (Sub Rosa, Optical Sound, Transonic…).
Informations
04.07 > 05.09.2021
Opening : 04.07
Collégiale Saint-Vincent – Grand'Place 10, 7060 Soignies
Production
Galerie Koma – with the support of ARTour/Central, Transcultures
Artistic curator: Jean-Pierre Denefve, director of Galerie Koma – Mons
With the support of the Soignies church factory and the curators Caroline et Jacques Deveseleer, Maxime Gabriel, Noémie Petit