07.2021 | A Limb – Second Life Summer 21 Tour
Posted on

06/07/2021

in 2021, Agenda, All news, Artists, Arts Numériques, Concerts, Creaconnections, Distribution, NoLA, Projects, Second Life, Soundart, Transonic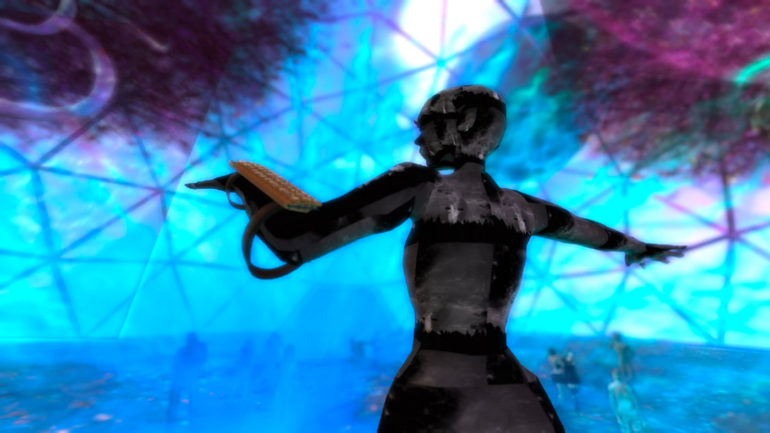 In July, A Limb will participate in the Burn2 festival (equivalent of Burning Man on Second Life and this year under the theme of emergence) and will give a series of concerts, solo or with other artists like Digital Deception (De) + Bsukmet (Es and Yadleen (De) … or Ryo Sogame (Jp).
Didié Nietszche (Radio Prague, 48 Cameras, Lamaφ, Neptunian Maximalism, Paradise Now…) solo project. A Limb (BE) is a kind of artistic Frankenstein, exhuming all sorts of music corpses from their graves, stitching an ambient body with funk legs, punk feet, experimental arms, jazz hands, a drone head, inserting a big ethnic music heart and krautrock lungs… then bathing the whole "body" in a dub bath, until an electro thunderbolt strikes him and he is… alive! Yes sometimes science goes too far, but it is too late to go back.
A Limb also likes to experiment on his own skin, changing regularly into a mutant monkey, a mirror ball, a dancing rabbit, an alien lizard… A Limb regularly plays at Cat's Circus, Burn 2 (official virtual version of Burning Man) and for several special events; it is often accompanied by a live visual of SaveMe Oh (PB).
A lire
Comment assister aux l'événements ?
Attention: assister en direct à cet événement nécessite une inscription dans Second Life, le téléchargement d'un logiciel et une initiation au maniement de celui-ci (vous trouverez aisément des tutoriaux sur le Web en fonction du logiciel téléchargé). Nous vous conseillons de faire le nécessaire au moins un jour avant l'événement afin de vous familiariser avec les commandes parfois peu intuitives de ce logiciel. Pour ceux qui ne seraient pas en mesure de se connecter à Second Life, une solution de stream video sur Youtube est à l'étude. Il sera aussi possible de suivre les concerts en audio streaming.
Second Life website: secondlife.com
Firestorm, le logiciel le plus utilisé pour accéder à Second Life : firestormviewer.org
Production
Avec le support de Transcultures et Transonic Label