02.04.2022 | Prayer of Exaltation of Otto Ganz – VGTK (Be) | Saint-Antoine-et-Sainte-Catherine church (Be)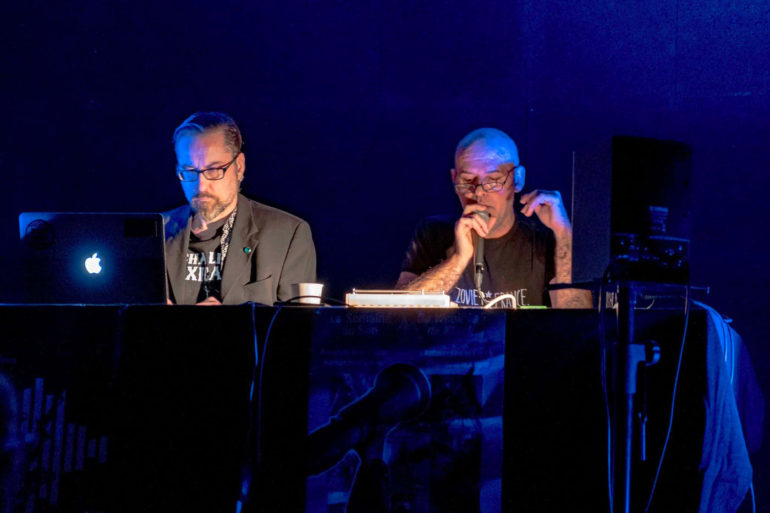 The VTGK duo initiated by Vincent Tholomé (text, reading) and Gauthier Keyaerts (sound) offers a (re)reading of the text by Otto Ganz (writer, poet, French-speaking Belgian visual artist who, according to Pascal Perrot, "has this virtue to none another equal of the modest visceral and the elegant obscene") in the heart of the mysterious baroque church of Saint-Antoine-et-Sainte-Catherine located in the historic center of Liège.
"And since every poem
backed by the rhythm
is written backwards
it is no longer time to heal
what is happening
than to read aloud"

(O.G. Prayer of Exaltation, maelstrÖm, reEvolution, 2021)
VTGK
VTGK is the duo bringing together Vincent Tholomé (reading, sound manipulation) and Gauthier Keyaerts (electronics).
Vincent Tholomé (BE)
Vincent Tholomé defines himself as a poet but also as a performer, at the crossroads of sound and verbal improvisations. Ex revuist (ttc, facial), ex member of the ex Big Band of Ferocious Literatures (with or without teeth), ex member of the crossroads of sound and verbal improvisations [kwad], ex poet by default, Vincent Tholomé has multiplied the adventures and meetings, getting involved in a good number of collective projects. He has been  seen / heard in duet projects with Sebastian Dicenaire, Maja Jantar and Laurence Vielle, and  in a quartet with Charles Pennequin, Thierry Aué and Arno Calleja. As an author, Vincent Tholomé has been publishing for twenty years, both in France and in Belgium. His work can also be read on the net and in various magazines.
Gauthier Keyaerts (BE)
Sound artist (several albums published on Sub Rosa and Transonic as well as installations and performances broadcast internationally) and interdisciplinary, he questions matter through sound and still or moving images, in an interactive and complementary manner. He bases his creation on two essential elements: a radically materialist approach, a real call to rediscover our senses, whether through sound or image, and a desire to communicate with the public, to generate a space for reflection. free and open. His favorite subjects are life, nothingness, the beauty of insignificance, the elements, time, memory.
Informations
02.04.2022 | 20:00
Saint-Antoine-et-Sainte-Catherine church
En Neuvice, 54 – 4000 Liège
free
Production
Le Comptoir du Livre. With the support of Transcultures & Sabam for Culture