26.11 > 08.12.2022 | Blé d'Art – Marie Bertrand (Be) – Exhibition + performance | Foyer Culturel de Saint-Ghislain (Be)
Blé d'Art (Wheat of Art)  is a multifaceted, multidisciplinary and participatory exhibition that includes sculpture, embroidery, sound, video as well as collage and performance.
Through the creations of the Belgian visual  and multidisciplinary artist Marie Bertrand on the theme of bread as well as those of the inhabitants of the commune of Saint Ghislain, Blé d'Art jointly presents works by Marie Bertrand as well as achievements of the inhabitants made during workshops she gave as part of the Summer Cultural Meetings organized in different municipalities by the cultural center of Saint Ghislain.
This evolving exhibition (also including, in the end, the results of two planned workshops, in Saint-Ghislain, the first in October 22 focusing on sound and the other, in November on the art of  performance) whose common thread is bread in its different cultural dimensions (in the broad sense) and that it can generate as a creative imagination, invites the visitor to take a fresh look at this essential food in our daily lives, which beyond its nutritional aspect has many other functions.
During the opening scheduled for September 15, at the Foyer Culturel de Saint-Ghislain, Marie Bertrand also offers the solo performance No Pain No Gain which highlights, with energy and humor, the alienating aspect, the repetition of gestures and words of the bakery sales.
Marie Bertrand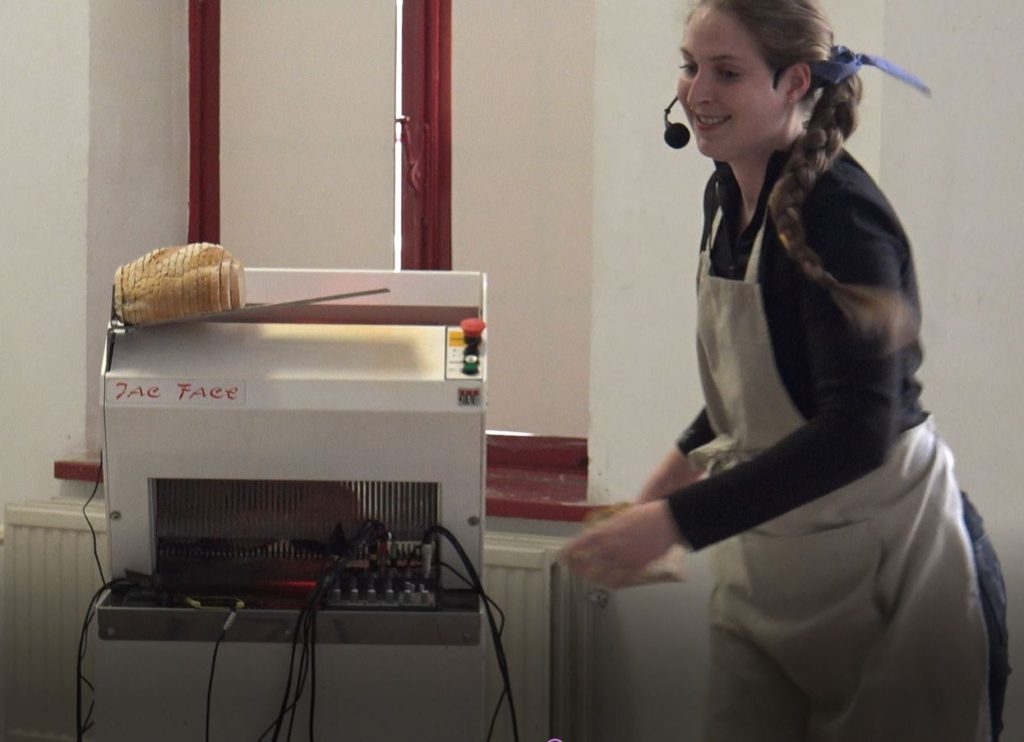 Born in 1995 in Belgium, develops a multidisciplinary artistic practice ranging from performance to video, including installation, sound, sculpture, painting, drawing, binding and paper creation.
She obtained a bachelor's degree in the painting option (ESA le 75) in 2017, a bachelor's degree in the Image Dans le Milieu (Arts²) option in 2019 and a master's degree in the Image Dans le Milieu (Arts²) option in 2021.
His artistic approach is based on his daily life and his feelings about the world around him. Her questions go from the world of work to her condition as a woman as well as childhood, death, the body, the absurd, humor and bread as a societal mirror.
Informations
26.11 > 08.12.2022
Foyer Culturel de Saint-Ghislain – Salle La Licorne
Grand'Place 37, 7330 Saint-Ghislain – Belgique
Open Monday through Friday – 14 > 18:00 – free
Production
Foyer Culturel de Saint-Ghislain
In partnership with Transcultures and Ad Libitum