Album | Bega [Sonic Scapes] – Tommy Lawson (Tg/Fr) | Transonic Label
Bega [Sonic Scapes] – Tommy Lawson
This album finalized on the occasion of a European Pepinieres residency at Transcultures, is an invitation to a transonic journey – between Bastia (Corsica), Timisoara (Romania) and M'Hamid (Morocco) –  by questioning the moment, shaking the uses and the people and events encountered in situ, and plunge us into a bubble of mental images between environmental atmospheres (field recording) and electronic textures for an audio poetic drift.
Tommy Lawson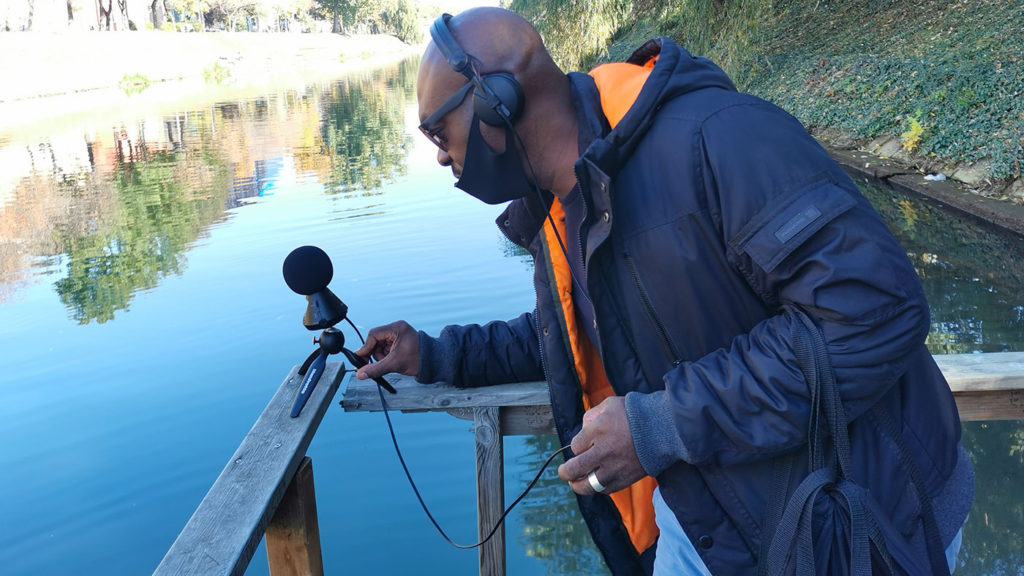 "Our entire sound environment must be considered as a source of information and sensations crossed by flows of activities, human circulations that can be captured, recorded, accumulated as material for creation. Continuously spaces and sounds come into resonance. They generate between them an interactivity that shapes landscapes. How do we see and how do we hear these landscapes? And how can we manage to reveal them, to probe their different dimensions, to understand the processes that constitute them?
I like for these projects of contextual multi-sound creation, to apprehend the particularities of the territory and the daily surrounding heritage, by mobilizing and sharpening the sense of listening, in order to generate new representations through a process of sound phenomenology. This sensitive approach and the integration of the spatialization of sound in immersive digital creation, allows me to re-compose the space that has become a living sound territory and flush out the sound, unveil, reveal unsuspected sound spaces. These collected materials constitute the raw material of my creations.
From sound fragments recorded in situ using different types of microphones, I like to arrange mini-stories, or rather "sound postcards". The design calls on ordinary endogenous sources of a place, a space, a territory but also on exogenous contents (electroacoustic and electronic musical elements) conceived in a close relationship with the existing atmosphere."
Tommy Lawson

sound artist, sound designer, digital art performer. He is also a producer and curator of events for the promotion of electronic music. He develops projects combining electronic and electroacoustic music. Deeply attached to the idea of ​​transversality between the arts, he produces numerous music and soundtracks in collaboration with the plastic arts, video-art and contemporary dance. He develops in collaboration with Armand Lesecq tools for digital audio creations and computer lutherie in the field of sound spatialization. He regularly carries out geolocated sound walks towards the public in order to allow them to live an augmented sound experience in connection with the intangible heritage of a territory. He is at the initiative of the first video mapping carried out in Corsica with the Tunisian collective Design Lab on the occasion of the reopening of the Bastia museum in 2009 of a series of video mapping as part of the European Heritage Days.

In 2008, he created Zone Libre, a structure dedicated to creation, production and distribution through which he has organized the eponymous Festival of Sound Arts since 2019, between art, science and new technologies. This event of support for creation emphasizes the development of transdisciplinary and hypermedia experiences in the field of sound and visual arts.
Informations
07.12.2022
Soundscapes, electronics & images: Tommy Lawson
Mixed at Transonic Lab-Mons
Executive production: Philippe Franck
Production : Transcultures, Pépinières européennes de Création
Recorded in Bastia – Corsica (Bunker Theory/2005, Jardins Sonics/2014, Eclats sonores/2018), M'Hamid El Ghizlane – Morocco (Polytopes/2016), Timisoara – Romania (Sonic Narratives/2021)
Production
Transcultures, Transonic Label – in partnership with the European Pepinieres of Creation
Photo cover : Tommy Lawson