13 > 19.03.2023 | Sonopoetics Residency – Kotrina Zilinskaité (Lt) + Paradise Now (Fr/Be) – Tortura | City Sonic Vilnius (Lt)
Posted on

24/02/2023

in 2023, Agenda, All news, Artists, City Sonic, City Sonic 20 years, International, Partners, Pépinières, Philippe Franck, Poetry, Production, Projects, Résidences, Sonopoetics, Soundart, Transcultures team, Transonic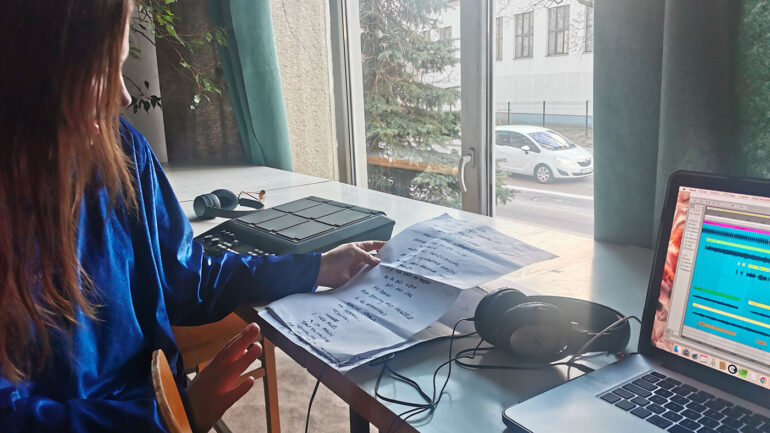 As part of the City Sonic Vilnius events planned for 2023 by Uziateka, Oasis of the Arts, European Pépinières and Transcultures, Kotryna Zilinskaité and Paradise Now are hosted for a week in residence at Kompresoriné – Ideas Block to create together a sonopoetic performance presented on March 19, at the end of the City Sonic Spring Sound Camp.
Starting from the theme of violence exercised by man on man and the cruelty that he is capable of inflicting on his fellow men and that he can also return to himself, Tortura features a dancer/ a performer who also reads texts she wrote for the occasion and a sound artist who can also interpret poetic fragments made up of the words of anonymous people who have suffered or committed extreme violence. Gilles Deleuze said that "violence is what does not speak". Torture questions and pain answers (François Raynouard).
This sound/body/voice performance in the white gallery space of the Kompresoriné-Ideas Block, which also leaves room for improvisation, is an attempt to express this unspeakable cry through the sounds and movements of the inner body/ outside – to let the crash of the implosion/explosion be heard – but also to free the body from speech and the speech from the body towards a possible tomorrow fully alive, a call for more compassion towards this victim/executioner that can be the other but also oneself.
Text/interpretation : Kotrina Zilinskaité, Philippe Franck
Dance : Kotrina Zilinskaité
Sound creation/concept : Paradise Now
Kotryna Žilinskaitė (Lt)
Interdisciplinary artist based in Vilnius, Kotryna Žilinskaitė combines theatre, contemporary and butoh dance, along with sound and litterary performances. Kotryna organizes festivals, and concerts, directs films and plays, creates and participates in artistic projects, performances, and happenings, and leads various creative workshops.
She is studying for a Master's degree in Music Therapy at Vilnius University and working with the cultural organizations "Užiateka" and "Oasis – art therapy" (which she initiated) on various sound art and intermedia events and projects.
Paradise Now (Fr/Be)
Intermedia producer and creator based in Belgium, Philippe Franck has developed since the 90s the Paradise Now project which favors an actively transversal and collaborative approach. He favors a sensitive and cinematic approach that embraces different influences and fields (electronics, sound art, post-rock, post-pop, improvised music …).
He has worked closely with various videographers (Régis Cotentin, Hanzel & Gretzel), poets (Ira Cohen, Gerard Malanga, Catrine Godin, Biba Sheikh, Werner Moron in Les ours bipolaires, Eric Therer for the project & Stuff), choreographers (Nadine Ganase , Manon Oligny, Karine Ledoyen), digital artists (Philippe Boisnard, Franck Soudan, Jacques Urbanska, Thomas Israël) and other adventurous audio creators (recently Christophe Bailleau within the duo Pastoral, Gauthier Keyaerts in Supernova, Stephan Dunkelman, Maurice Charles JJ, A Limb).
Since 2005, he has also collaborated with holistic performer / masseuse Isa Belle for a series of installations and "sound" performances shown in numerous festivals, cultural centers and international events. He has also produced and participated in several records on various independent labels (Sub Rosa, Optical Sound, Transonic…). In 2022, he began a doctoral thesis in Information and Communication Sciences (Cognition, language, interaction) at the University of Paris 8 (CiTu Paragrahe), under the dual supervision of Khaldoun Zreik (Paris8) and Marc Veyrat (University of Savoie Mont Blanc).
Informations
13 > 19.03.2023
Kompresorinė – Ideas Block
A. Goštauto st. 11, Vilnius, Lithuania