20 > 23-11-2014 – Tournée Duos Transatlantiques
Posted on

13/11/2014

in 2014, Agenda, All news, Artists, Belgium / FWB, International, Network, Paradise Now, Production, Projects, Résidences, Soundart, Transatlantiques, Transcultures team
This transatlantic collaboration began in 2013 between Rhizome Productions (Quebec organization which create and produce interdisciplinary/litterary performances, installations and events) and Transcultures to create several duets called 'Transatlantiques (long courrier)' celebrating the meeting between authors/poets and sound artists in Belgium and Quebec invited to share artistic correspondence between Quebec and the Federation Wallonia-Brussels.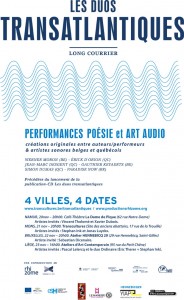 From 20 to 23 November 2014, The Transatlantic duets will stop in Namur (Dame Pic), Mons (in the context of the 'Ecritures Transatlantiques' event), Brussels (Hennebicq29) and Liège (Ateliers d'Art Contemporain). For this 'Transatlantic Duets' tour, Rhizome and Transcultures present short performances by Werner Moron (author / artist undisciplinary, Be) & Erick Orion (audio artist, Qc), Jean-Marc Desgent (author, QC) & Gauthier Keyaerts (musician, Be), Simon Dumas (author, director, multimedia artist, Qc) & Paradise Now (audio designer, Be).
These mobile performances, will feature, besides these 3 Transatlantic duets, other poets and sound artists (in Namur, author/performer Vincent Tholomé with guitarist Xavier Dubois; in Mons, Stephan Ink musician and video artist Jonas Luyckx for performance … Sauvés avec le vent by Gauthier Keyaerts, in Brussels, writer/performer Sebastian Dicenaire and in Liege, the poet Pascal Leclercq and the audio poetic duet Ordinary /Eric Therer + Stephan Ink). This tour also correspond to the launch of the publication 'Les Transatlantiques (long courrier)' that contains the texts of these creations and a CD (in partnership with Transonic, label initiated by Transcultures) featuring the recordings of the 5 initial Transatlantic audio-potic pieces.
Informations
20 > 23-11-2014

Namur > La Dame de Pic > 20:00
Mons > Transcultures/Frigo > 20:00
Bruxelles > Atelier Hennebiq 29 > 20:00
Liège > Atelier d'Arts Contemporain > 16:00

Free
production
With the support of L'Entente de développement culturel MCCQ – Ville de Québec, le Conseil des arts et des lettres du Québec, le ministère des Relations internationales, La Francophonie, Commerce extérieur du Québec, Wallonie-Bruxelles International, la Délégation du Québec à Bruxelles, dans le cadre de Espace(s) Son(s) Hainaut(s), Fonds Feder- Intereg IV Flandre-Vlanderen-Wallonie.
Partneship : La Dame de Pic (Namur), Peter M Friess/Hennebicq29 (Bruxelles), le manège.mons (Mons), Ateliers d'Art Contemporain (Liège), White Market (…Sauvés du vent)
Many thanks to the  City of Mons.