14.06.2023 | OMFI #42 – Gašper Piano – Kris Vanderstraeten – Tom Jackson | Chapelle du Grand Hospice (Be)
Posted on

19/05/2023

in 2023, Agenda, All news, Artists, Belgium / FWB, City Sonic, City Sonic 20 years, Concerts, Partners, Production, Projects, Soundart
"Musicians… The space of the Chapelle du Grand Hospice will resonate with your "vibes"…. It will be a question of playing with the acoustics of the place so that it does not play with you… Take us on a journey !…"
OMFI (One Moment Free Improv) evenings are dedicated to free musical improvisation and focus on solo practice. Each time they offer three different artists performing a solo improvisation of 20-25 min. A musical meeting in Trio or Duo is then proposed.
Gašper Piano (Sl) /e.guitar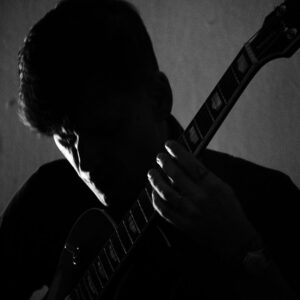 Gašper Piano is a Slovenian guitarist, composer, improviser, sound artist and poet. He is active as a freelance artist for performative art (theatre/contemporary dance/performance), visual art (multimedia/film/video) and acoustic/experimental/electronic music groups.
He was recognized in 2006 as a budding artist by the Slovenian Ministry of Culture. He collaborates on various projects with renowned choreographers/directors: Davis Freeman, Meg Stuart, David Zambrano, Mark L. Thompkins, Isabella Soupart and the musicians Bart Maris, Peter Jacquemyn, John Dikeman, Michael Schmidt, Hanne De Baker…
Since 2021, he regularly organizes improvised music sessions ("Adder Klank – Gatherings of spontaneous sound collisions") and presents them while collaborating with various
institutions and cultural places. Heis also active in social anthropology and culturology.
Kris Vanderstraeten (Be) /percussion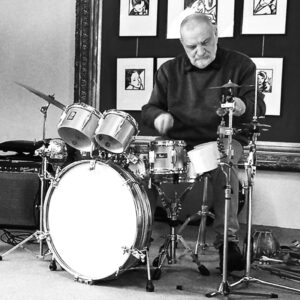 Percussionist Kris Vanderstraeten is one of the best kept secrets of Belgian improvisation. Since the 1970th he has been working with his unique set-up and various collaborations: the trio Sureau, a duo with Timo Van Luijk, performances and/or recordings with young experimentalists.
Vanderstraeten does not play by the rules, he tries to shift them completely. His drum kit is not just any instrument; it is a sound generator to explore the maximum potential of texture, dynamics and space.
Tom Jackson (UK) /clarinet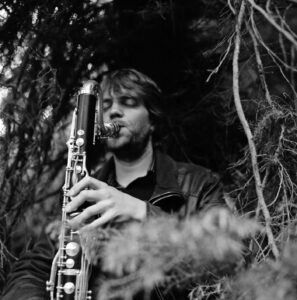 Tom Jackson is a clarinettist and saxophonist active in London and Europe, largely dedicated to the fields of contemporary classical music and free improvisation. He maintains an extensive and eclectic performance schedule and has performed throughout Europe, Australia and Hong Kong.
Tom has performed as principal clarinet with many orchestras including New London Sinfonia and British Sinfonietta and National Chamber Orchestra of Wales. He has worked with various contemporary chamber groups such as Apartment House, Lontano, Plus-Minus, ChampdAction, Ictus, Splinter Cell and Cardiff New Music Collective, which he co-founded. He is an active session musician, playing for albums and live shows. He has recently completed a PhD at Canterbury Christ Church University on relational aesthetics and free improvisation.
Tom is vastly experienced in teaching all ages and is regularly consulted on the publication of pedagogical material. He is currently preparing four books of etudes for clarinet and saxophone for 360 Music. He is the recording artist for Schott's Romantic Clarinet and Klezmer Clarinet series.
Informations
14.06.2023 | 20:00
8€
Chapelle du Grand Hospice
Rue du Grand Hospice 7, 1000 Bruxelles
Production
OMFI, with the support of Transcultures
In the framework of City Sonic 20 Years