Newsletter janvier 2016

Après une année particulièrement intense avec notamment la participation de Transcultures à Mons 2015 Capitale européenne de la culture, de nombreuses collaborations à l'international (de Taïwan au Québec) et dernièrement la cinquième édition des Transnumériques qui a présenté une soixantaine d'artistes, nous démarrons ce cru 2016 qui marquera sans doute d'autres développements et concrétisera d'autres mutations, avec un workshop Emergences numériques et sonores en partenariat avec l'Ecole Arts2 (Mons) tandis que des oeuvres soutenues par Transcultures comme celles de Stéphane Kozik tournent à l'étranger. Dans les prochaines semaines vous pourrez aussi découvrir d'autres vidéos des événements récents sur les sites de Transcultures et le label associé Transonic met aussi le focus sur deux cassettes audio (+download) à édition limitée (compilation Cassette Art#1 et String Quartet with Windows live in Brussels de Harold Schellinx) et un CD catalogue audio de City Sonic 2015 en lien avec la dernière édition du festival. 2016 bonnes vibrations dans ce monde bouleversé qui en a tant besoin !
After a particularly intense year After an intense year with the participation of Transcultures to Mons, European Capital of Culture, numerous international collaborations (from Canada to Taïwan) and lately the fifth edition of Transnumériques which featured sixty artists, we are opening 2016  with a 'digital and sound emergences' workshop in partnership with the Art School of Mons, Arts2, while works supported by Transcultures like the ones of Stéphane Kozik are presented abroad. In the coming weeks you'll be able to watch more video documents on the sites of Transcultures. The associated label Transonic puts the focus on two audio cassettes (+ download)- limited edition- (compilation Cassette Art # 1 and String Quartet with Windows Open live in Brussels by Harold Schellinx & guests) and an audio catalogue of City Sonic 2015, all in connection with the last edition of the festival. 2016 good vibes in our mutating world, which badly needs them!
11.01 > 15.01.2016
Workshop Emergences numériques & sonores
Mons 

> ARTS2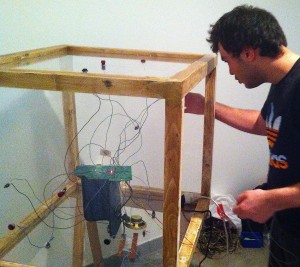 Comme depuis quelques années maintenant, Transcultures et Arts2 proposent un workshop d'une semaine à de talentueux étudiants-jeunes artistes ouverts à différentes écoles d'art outre celle de Mons. Il s'agit après une introduction sur différents types de dispositifs numériques et sonores, pour les coordinateurs (Julien Poidevin et Arnaud Eeckhout, tous deux jeunes artistes multimédiatiques, diplômés de l'école d'art de Mons et qui mènent chacun une carrière internationale et prometteuse) d'aider les participants à monter concrètement leurs projets afin ultimement après un deuxième workshop en été et des échanges entre les temps de travail commun, pour qu'ils soient présentables, en conditions professionnelles, dans des festivals et événements associés à Transcultures (City Sonic, Transnumériques…) qui diffuse aussi également par après, les meilleurs de ceux-ci dans ces réseaux belges et internationaux.
As for some years now, Transcultures and Arts2 offer a one-week workshop for talented art students & young artists, which is also open to different art schools in addition to that of Mons. After an introduction to the different types of digital and audio devices by artists-coordinators (this time, Julien Poidevin and Arnaud Eeckhout, both young multi-media artists, who both graduated from the art school of Mons and lead a promising international career) to help participants to effectively set up their projects to ultimately after a second workshop in the Summer and exchanges between working times, show them in professional conditions, at festivals and events associated with Transcultures (City Sonic, Transnumériques …) which also distributes the best of them in its Belgian and international networks.
Organisation, production : Transcultures, Arts2
Gratuit/free sur inscription (complet, sold out)
Arts2 – Carré des Arts, 4a rue des Soeurs noires (premier étage, IDM),  Mons
transcultures.be – esapv.be
Oeuvres soutenues par Transcultures en diffusion – works supported by Transcultures currently on tour Stéphane Kozik – Digital Breakfast + Livescape
FRANCE – ESCAUDAIN

>

MEDIATHEQUE – 9>15.01.2016
Après un temps de résidence, Stéphane Kozik, artiste montois multimédiatique et sonore, montre à la médiathèque d'Escaudain, en installation, Digital Breakfast (en collaboration avec Arnaud Eeckhout, récemment présenté au Digital Art Festival de Taipei avec d'autres projets Transcultures), où les objets du quotidien et du petit déjeuner s'animent sur une table pour devenir joyeusement interactifs et sonores, en performance, Livescape (créé au festival City Sonic), scénographie d'instruments inventés et traités numériquement à partir d'éléments naturels (bois, pierre, plantes, légumes, fruits…) jouées par Stéphane Kozik qui propose au public, à la suite de la représentation, de s'en emparer. Inventif, poétique et jouissif !
After a period of residence at the médiathèque of Escaudain (France), Stéphane Kozik, Mons multimedia, visual and sound artist , presents his installation (in collaboration with Arnaud Eeckhout), 'Digital Breakfast' (recently presented at the Digital Art Festival of Taipei  with other projects supported by Transcultures), where everyday  and breakfast objects come alive on a table to play happily an interactive sound performance, and the 'Livescape' performance (created in City Sonic festival), invented instruments digitally processed from natural elements (wood, stone, plants, vegetables, fruits …) played by Stéphane Kozik offering to the public, after the performance, to play with the instruments. Inventive, poetic and enjoyable!
Entrée libre/free entrance
Médiathèque d'Escaudain, rue de la Savonnerie, Escaudain
http://www.agglo-porteduhainaut.fr/component/option,com_events/Itemid,391/agid,14/day,09/month,01/task,view_detail/year,2016/
Nouveautés Transonic – new releases: audio cassette Cassette Art#1, Harold Schellinx String Quartet with Window Open live in Brussels, CD City Sonic 2015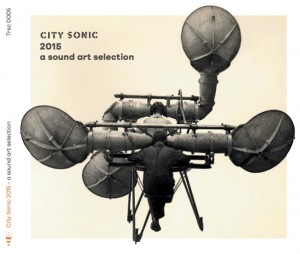 Transonic, label des sons autres, associé à Transcultures, a sorti récemment 2 cassettes audio (édition limitée+download) : Cassette Art#1, une compilation (bande-son de l'exposition éponyme dans le festival City Sonic 2015) dédié à l'art de la cassette hier et aujourd'hui, avec des références historiques ( inédites ou épuisées dont Dog As Master, Scanner, Hanzel & Gretzel, Playtime…pour les années 80) et des nouvelles compositions réalisées par des artistes sonores et musiciens aventureux avec des cassettes audio utilisées comme instruments ou sources principales (such:, Christophe Bailleau, Julien Demoulin, Pierre Beloüin, &stuff, Felicia Atkinson, Bloem, Dawamesk, Midori Hirano, Gauthier Keyaerts…) ; String Quartet with Windows Open live in Brussels est une composition minimaliste et envoutante de Harold Schellinx qui intègre à celle-ci les bruits environnements (ici la gare de Bruxelles-Chapelle et le centre Recyclart où la performance de 24heures (résumée en une heure pour la cassette) a été capturée avec des invités dont Baudouin de Jaer au violon et Matthieu Safatly au violoncelle). Transonic sort également la dernière compilation du festival City Sonic avec des pièces sonores (de l'électro ambient, contemporain hybride, à la poésie sonore ou encore la création radio pirate), pour la plupart inédites (en lien avec ce qui a été présenté en 2015 à Mons et à Bruxelles), de Jason Van Gulick, Martyn Bates, Janek Schaeffer, Quattrofage, Teuk Henri, Gabriel Lecup, 11:60+guests, Fuji Wang, Isa Belle + Paradise Now, Dominique Lawalrée, Baudouin de Jaer, Margarida Guia, Werner Moron+Manu Louis, Charles Pennequin, Gilles Malatray et bien d'autres.

Transonic, label for other sounds associated with Transcultures, recently released two audio cassettes (limited edition + download): Cassette Art # 1, a compilation (soundtrack of the eponymous exhibition presented at festival City Sonic in September 2015) dedicated to art of the tape yesterday and today, with historical references (including unpublished or depleted tracks by Dog As Master, Scanner, Hanzel & Gretzel, Playtime …) and new compositions or live recordings performed by sound artists and musicians adventurous with audio tapes used as instruments or major sources (such :, Julien Demoulin, Pierre Beloüin, & stuff, Felicia Atkinson, Bloem, dawamesk, Midori Hirano, Gauthier Keyaerts, Christophe Bailleau, …); String Quartet with Windows Open live in Brussels is a minimalist captivating composition of Harold Schellinx that incorporates live environmental noises (by the Brussels-Chapelle station and Recyclart center where this 24 hour performance (summarized in an hour for this cassette) was captured live with guests including Baudouin de Jaer-violin and Matthew Safatly-cello). Transonic also released the new compilation of the festival City Sonic with sound pieces (electro ambient, hybrid contemporary, sound poetry or pirate radio creation), mostly unpublished (in connection with what was presented in 2015 Mons and Brussels), Jason Van Gulick, Martyn Bates, Janek Schaeffer, Quattrofage, Teuk Henri, 11: 60 + guests, Fuji Wang, Isa Belle + Paradise Now, Gabriel Lecup, Dominique Lawalrée, Baudouin de Jaer, Margarida Guia, Werner Moron + Manu Louis, Charles Pennequin Gilles Malatray and many others.