12 > 24-03-2015 – City Light + Europa Cafe @ VIA festival / Mons2015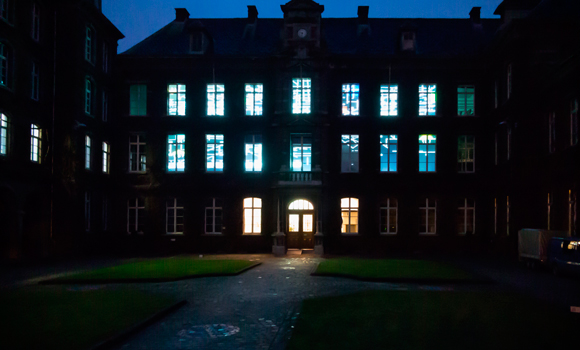 The VIA festival is this year part of Mons2015, European Capital of Culture, with a program combining performing arts creations and digital technologies including creations by Belgian artists such as Michèle Noiret, Fabrice Murgia …and international shows, a large digital arts exhibition Home Cinema in Maubeuge and in Mons the opening of the Café Europa, an 'interconnected coffee and laboratory to handle and understand the new technologies, a place for debate and artist residencies " in connection with other cities (from Riga to San Sebastian, Pilsen to Kaliningrad or Avignon to Montreal).
Transcultures fits into this dynamic by participating in the 'City Light' project initiated by the numediart Research Institute, with which Transcultures works to provide audio-visual, digital arts content through the creation of Israel and Thomas Kika Nicolela who invested the facade of the Polytechnic Faculty of the University of Mons to make the support of a giant mapping, also with sound. Transcultures also participate in the Café Europa proposing digital creations of supported artists (Ariane Looze, Systaime …) as well as meeting, lectures and workshops throughout the year.
Informations
12/14/16/21/23/24.03.2015

20:30 et 22:30

Faculté Polytechnique

9 rue de Houdain, Mons – Belgique

free
production
Partnership: numediart, Transcultures, Mons2015