28.04 > 16.05.2019 | Digital Scriptures and Intermediate Forms – Bibliotheca Wittockiana -Brussels
Posted on

06/04/2019

in 2019, Agenda, All news, Artists, Belgium / FWB, Conferences, Distribution, Exhibitions, International, Isa Belle, Mediation, Partners, Philippe Franck, Production, Projects, Transatlantiques, Transcultures team
As part of the pluridisciplinal manifestation "Reste la lumière" coordonated by Lettres en voix, Transcultures partners with this association and it's Québec partner Rhizome Productions and Bibliotheca Wittockiana to offer the event "Ecritures numériques et formes intermédiatiques" including several compenents like the collective installation Choeur(s), conceived by Simon Dumas with an audio-poetic performance by Ours bipolaires on the opening day, and a series of conferences on digital writings planned for April and May at Bibliotheca Wittockiana.
Chœur(s) | Interactive AV installation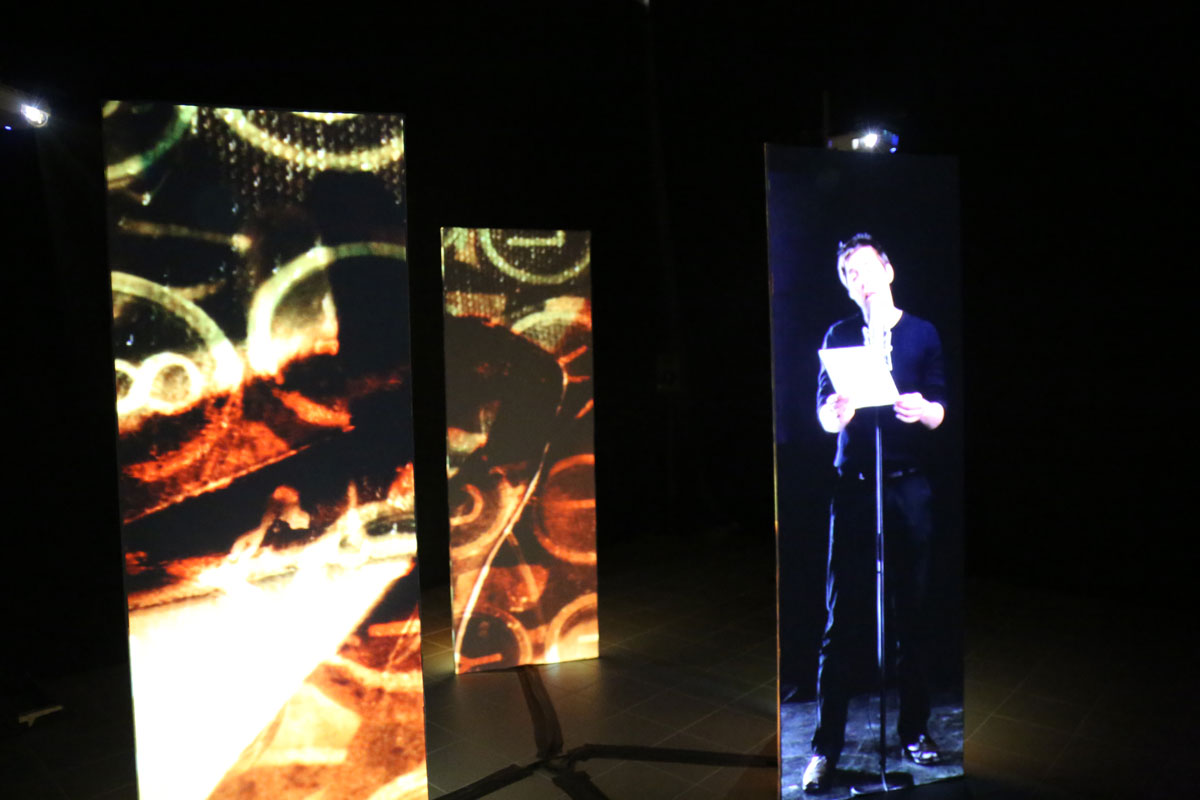 Choeur(s) is an iAV and interactive installation whose heart is poetic. In the center of a black room stands a number of people. It is not possible at first glance to determine exactly how much. Some stand behind others.
Nine men and women standing in the center of the space, facing outward and calling the visitor: They are poets, seven from Quebec and two from Belgium. Nine deferred poetic presences that a digital device makes interact. Between them, especially, but also with the visitor who activates passing in front of them the performers on the screen columns on a human scale.
Each poet is "paired" with a sound artist who composed a soundtrack related to the poet's text and that the visitor can trigger by activating the sequences.
Participants :  Annie Lafleur + Meriol Lehmann, Josée Marcotte + Miriane Rouillard,  Marc-Antoine K. Phaneuf + Simon Elmaleh,  Alexis Lussier +  Mathieu Campagna, Hervé Bouchard + Stephan Ink, Jean-Marc Desgent + Gauthier Keyaerts, Sebastian Dicenaire +  Martin Tétreault, Werner Moron + Érick d'Orion, Simon Dumas + Philippe Franck
Conception  : Simon Dumas in collaboration with Philippe Franck
Video : Simon Dumas in collaboration with Louis-Robert Bouchard
Technician : Louis-Robert Bouchard.
Production : Rhizome, Transcultures with the support of LANTIS (Laboratoire des nouvelles technologies de l'image, du son et de la scène) @ Université de Laval (Québec).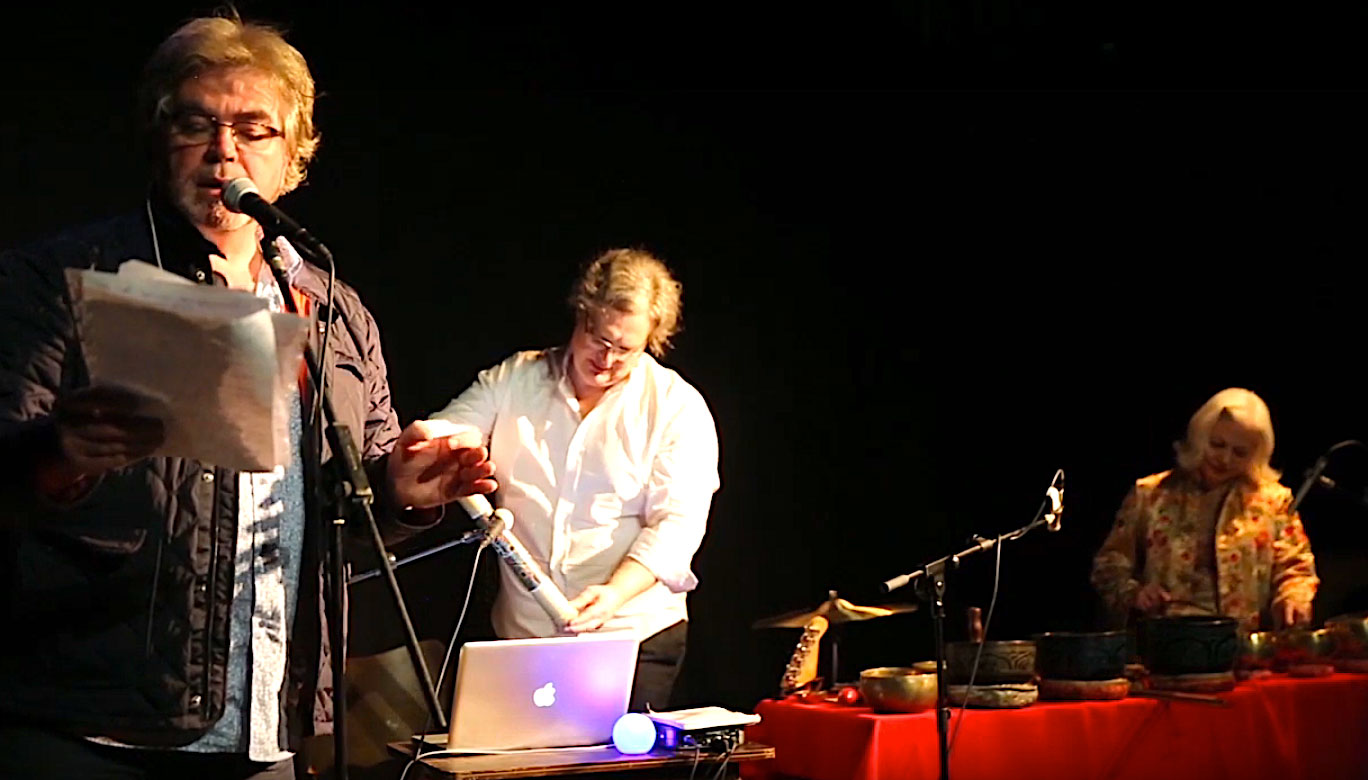 Initiated in 2014, thanks to a writing residency at La Saline Royale (France) by Werner Moron (author, performer, visual artist) and Philippe Franck (sound and intermediatic creator), the Ours Bipolaires project was developed through performances presented in Quebec and Belgium with special guest, Isa Belle (Tibetan bots, gongs, bells) weaving surreal poetic paintings (texts by Werner Moron) in a cinematic sound universe and traveler (electro-guitaristic landscapes Philippe Franck with the vibratory contribution of Isa Belle).
Informations
Opening 24.03.2019 – Free entrance
Choeur(s) > 16.00 | Performance Les Ours Bipolaires > 17.00
Bibilotheca Wittockiana – Rue du Bemel 23, 1150 Woluwe-Saint-Pierre
Exhibition « Chœur(s) » 28.04 > 16.05. 2019 – tuesday > sunday 10:00 > 17:00  Closed on mondays
Adults :  5 € Seniors, students & groups: 3 €
Free entrace in the case of « Art et littérature » course and first monday of the month
Production
Partnership Transcultures, Lettres en Voix, Bibliotheca Wittockiana
With the support of Fédération Wallonie-Bruxelles (arts numériques)
In the framework of "Reste la Lumière" – Journée internationale de la lumière – UNESCO