05-06-2016 – Opening Vice Versa Residence – Transcultures <> La Chambre Blanche – Québec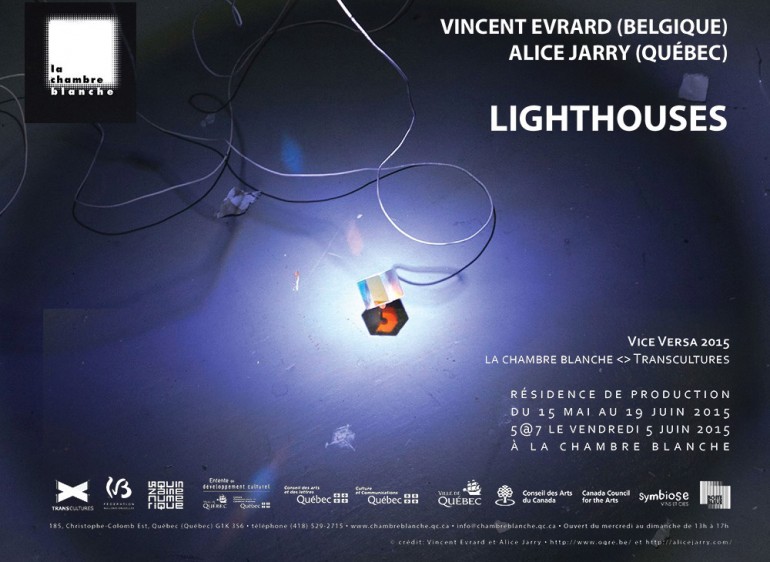 LA CHAMBRE BLANCHE welcomes Quebec digital artist, Alice Jarry, and Belgium creative computer programmer, Vincent Evrard, for the second part of their production work from May 15 to June 19, 2015 in the framework of the Transcultures Vice Versa program. This production work started with a first virtual residency in the spring, and will be completed in the fall during the 2015 Transnumériques event in Mons, Belgium (check the call for these crossed residencies – fr).
Taking the form of successive residencies between Net (viceetversa.tumblr.com/), LA CHAMBRE BLANCHE artist centre (Quebec) and the Transcultures event (Mons), the two artists work on the processes and materials of diffraction (separation of white light in color beams and the reverse). They mix of their practices in order to create a meaningful and connected artwork.
From the sound code of the interconnected items to the luminous panoramas of the dichroic glass, the kinetic installation submerges the participants in the pulsating technics of the cinema and the video so that he can emerge in the beat of his own environments /behaviours.
Like a ''blind date'' of the senses the "Lighthouses" project presented at LA CHAMBRE BLANCHE causes the loss of the usual references of physical locations to recreate networks of objects like so many sensitive lighthouses, true lifebuoys, programmed to comfort and reassure.
Alice Jarry (Montreal) holds a Master's degree in visual and media arts (M.A). She is studying in the doctorate program of Studies and practice of the arts at UQAM and teaches in the Design & Computation Arts department of Concordia University. Her work was recently broadcasted at the second Biennale internationale d'art numérique (BIAN), in the LASER series (Leonardo) as well as in many exhibition centers in Canada, the USA and in Europe.
Vincent Evrard (Belgium) is a geek, a graphic designer, and artist and a programmer. He studied at the ESA St-Luc, Liège, in graphic design and at the ERG in Brussels in digital arts. He has developed interactions Man/Machine and multi touch interfaces, interactive systems for photography and video including at Getyoo. He is now self-employed and works under the pseudonyms "ogre" or "oogre" and provides technical support for artists, gives programming workshops, develops interactive devices / Net/ and mobile applications. He also plays homemade video analog instruments in many groups.
Text : Leblancdesyeux
Source : Carol-Ann Belzil-Normand
Informations
05/06/2015

La Chambre Blanche

185, rue Christophe-Colomb Est, Quebec, Quebec G1K 3S6 Canada

gratuit
Production
A partnership Transcultures – La Chambre Blanche
With the support of: La Ville de Québec – Le Conseil des Arts et des Lettres de Québec – Culture et Communication Québec – Conseil des Arts du Canada – la Fédération Wallonie Bruxelles – Wallonie Bruxelles International – Mons 2015, Capitale européenne de la Cultures – Le manège.mons – Symbiose et la Boite Bleue