13.11 > 22.11.2015 – Transcultures @ Digital Art Festival Taipei 2015 – Taïwan
Posted on

05/11/2015

in 2015, Agenda, All news, Artists, City Sonic, Distribution, Exhibitions, Festivals, International, Jacques Urbanska, Network, Paradise Now, Pastoral, Philippe Franck, Production, Projects, Soundart, TransAwards, Transcultures team, Transnumeriques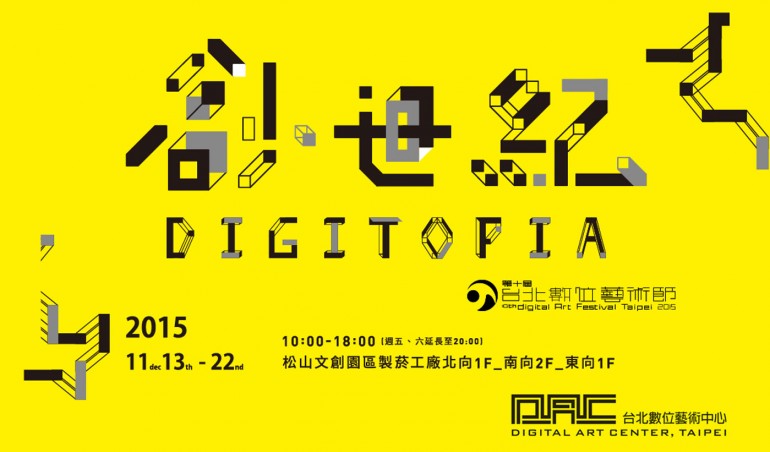 Since the recent edition of City Sonic, Transcultures has launched an exchange with the Digital Art Centre and Foundation of Taipei. In November, the Digital Art Festival Taipei will host sound and digital artists from Wallonia-Brussels Federation supported City Sonic and proposed by Transcultures.
Initiated in 2006 by the Center & Foundation of Digital Art Taipe, the Taipei Digital Art Festival highlights innovative artistic expressions and has chosen for this edition the theme of dystopia. The Transcultures selection for the festival features interactive/participative installations by Nicolas d'Alessandro, Gauthier Keyaerts, Stéphane Kozik & Arnaud Eeckhout from VOID ; Haydirocket's Gif Wall, an international Gif show ('Transnumériques Awards-Arts & Networks') curated by Jacques Urbanska ; performances by around Stéphane Kozik aka Livescape ; Supernova and a selection of video (by Natalia de Mello, Régis Cotentin, Pastoral, Stéphane Kozik, …) co-produced or distributed by Transcultures.
This project borned at the RAN-DAN (Réseau Art Numérique – Digital Art Network), at the occasion of biennale des Bains Numériques 2014 initiated by the Centre des Arts of Enghien les Bains.
*Transnumeriques Awards – Art(s) & Network(s) 2015 (spécial Gifs) : _blank – Eric Juth – Alix Desaubliaux – Anne-Marie Bouchard – Benjamin Rosenthal – Bob (Mauricio Sanhueza) – Michael Szpakowski – Cesar Escudero Andaluz – Chiara (Passa) – Chris Collins – Chris Timms – Colin Raff – Domenico Dom Barra – Dorianne Wotton – Francois Beaurain – Francoise Gamma – Gustavo Torres – Haidyroket – Harold Charre – Igor Stromajer – jim punk – Julian Glander – Julien Deswaef – Krefer – kyttenjanae – Laura Brothers – Yannick Dubois – Luca Moroni – Margot Bowman – Mariano Equizzi – Maxime Dardenne – Maxine – Milos Rajkovic aka Sholim – Nick Kegeyan – Nicolas Boillot – Omar_Sailhan_RISE – peekasso – Peter Burr – Pierre Andreotti – Ralph Klewitz – Rose Keeler  – Scott Gelber – Siyu Mao – Skip Hursh – Bill Tavis – Thom Rugo  – Tom Moody – Tugce Senogul – Thierry Verbeeck – YoMeryl – Zack Dougherty… (voir spamm.be).
Informations
13.11 > 22.11.2015

No. 133, Guangfu S Rd, 信義區, 台北市110

Free