06>07.2017 – Claire Williams, media art residency @ Transcultures / Le Vecteur
Posted on

05/06/2017

in 2017, Agenda, All news, Artists, Belgium / FWB, Exhibitions, Mediation, Partners, Production, Projects, Résidences, Workshops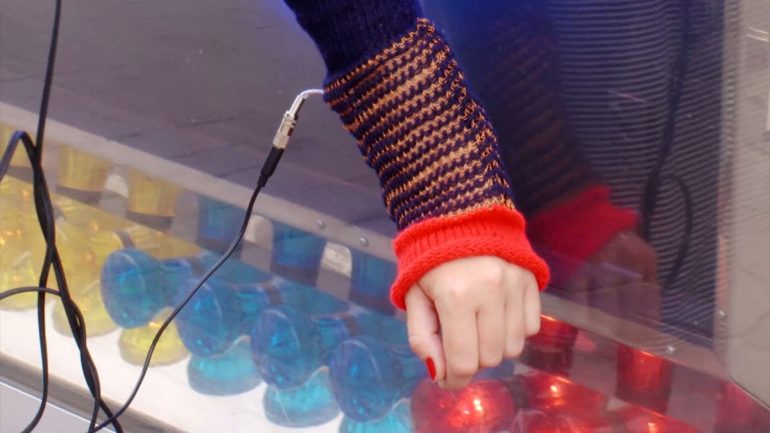 Claire Williams, young Brussels based artist working on textiles and new technologies, was selected for a first digital art creation residency proposed by Le Vecteur et Transcultures. She had 6 weeks to make an exhibition at the V2 Gallery of the Vector in Charleroi.
In "Les champs magnétiques", Claire Williams offers a sensitive and poetic look at the materials that constitutes our current electronic devices and circuits derived from minerals, and at their electronic activity, amplified and highlighted by electromagnetic principles. Those systems are constructed in a traditional way by mixing textile, sound and digital techniques.
She also conducts 'electro textile workshops' with high school classes at the Saint Anne Institute (Gosselies) on June 6 and 9. The electronics associates with the textile in order to be able to trigger, amplify, pick up and generate sounds, vibrations or data. During these workshops, participants experience how to deconstruct basic electronic systems by reinventing them with textile techniques and DIY recipes. They learn how to create embroidered enclosures or small textile engines from those researches.
Informations
Residence : 06>07.2017

Worshop 06+09.06.2017

Exhibition 28.06>29.07.017 – opening 24.06 – 19:00 (dans le cadre de la Fête de la Musique)

Le Vecteur

4, rue Navez – Charleroi

gratuit

Production : Le Vecteur – Transcultures