10-2018 | Turbulences Vidéo #101 – Videoformes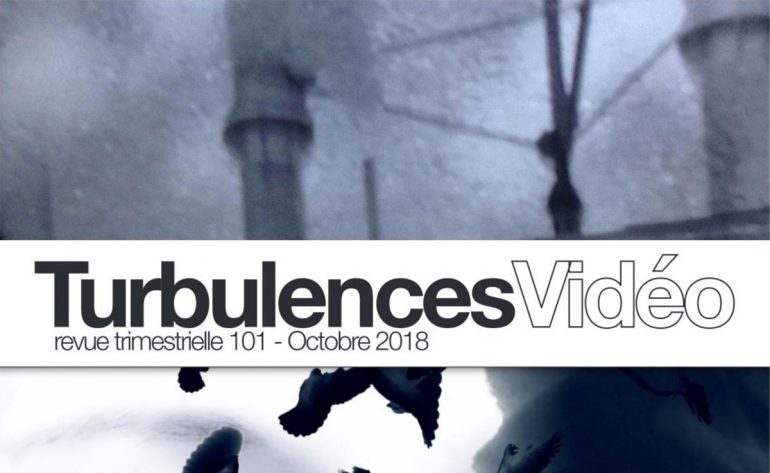 Let us celebrate the quality and endurance of the French quarterly magazine Turbulences Vidéo (online and also downloadable in pdf format), which deals with the contemporary arts and moving images in general, video art and digital cultures in particular. Turbulences Vidéo was initiated by Vidéoformes ( Clermont-Ferrand) under the direction of its director Gabriel Soucheyre and the coordination of Eric André Freydefont.
This 101st issue gives voice to talented critics (including the talented film and art critic Jean-Paul Fargier or "when Michel Jaffrenou inspires Emmanuel Macron" and the art critic and essayist Paul Ardenne) as well as artists (a portrait of the artist Franco-Belgian video artist Agnès Guillaume) as well as "chronicles in motion". Jean-Paul Gavard-Perret pays tribute to the multidisciplinary Cuban artist Ana Mendieta (deceased in 1985) creator of the "earth body", on the occasion of an exhibition that devotes to him the Jeu de Paume in Paris while Philippe Franck recalls the interesting collective audio adventure of "Secondary Sonic Space" that he initiated recently with the Romanian association Simultan, Timisoara 2021 and Transcultures in complicity with the sound artist Raymond Delepierre. He also reviews two recent thematic issues of the magazine Inter ("May 58 fifty years after" for the number 129 and "Technocorps and cybermilieux" for the 128). Long live these precious (trans)cultural turbulences!
Informations
10-2018

Videoformes

free

Quaterly magazine – Editions Videoformes