01.11 > 11.11.2018 | Expo Digital Contemplation | Abbaye de Villers
Posted on

20/10/2018

in 2018, Agenda, Artists, Arts Numériques, Belgium / FWB, Distribution, Exhibitions, Isa Belle, Paradise Now, Pastoral, Philippe Franck, Projects, Soundart, Young artists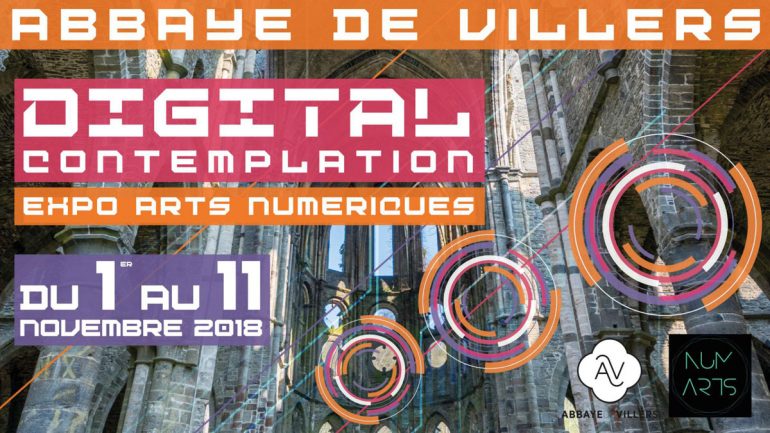 From November 1 to 11, the Abbey of Villers (Wallonia) and Numeric Arts present the first digital art exhibition "Digital Contemplation" at the heart of this exceptional site. This event links digital arts and heritage, like so many resonances between the past and the contemporary era. This is the fundamental purpose of the exhibition, which reinterprets them through the digital spectrum, the cardinal point of our new modes of expression.
In this context, Transcultures offers a varied selection of recent projects by students from the School of Visual Arts of Mons Arts2 resulting from the 'Digital and Sound Emergences" workshops program (Maïa Blondeau & Aïna Spencer, Gavin Sobnack and Maxime Van Roy). As well as a selection of audio works produced for the City Sonic – International Festival of Sound Arts, called "Transonic Ghosts" (in the underground rooms of the Abbey) designed by Paradise Now around pieces by Christophe Bailleau, Isa Belle + Paradise Now, Leo Kupper, : such:, Pastoral, Simon Dumas.
'Digital Contemplation' also presents in its program of various aesthetics, other works by artists supported by Transcultures (Stéphanie Laforce with the collaboration of Raymond Delepierre, Thomas Israel on the music Gauthier Keyaerts, Kika Nicolela) and pays tribute to the artist / Belgian concept Multimedia disappeared in 2017, Vincent Paesmans.
Informations
01.11 > 11.11.2018

Abbaye de Villers

Rue de l'Abbaye, 551495 Villers-la-Ville

Accessible en permanence durant les heures d'ouverture de l'Abbaye soit de 10 à 17h

le prix de l'expo est inclus dans le tarif d'entrée