25 > 26.10.2018 | Secondary Sonic Space @ Beyond the obvious | Timisoara
Posted on

21/10/2018

in 2018, Agenda, All news, Artists, Distribution, Europe, Exhibitions, International, Partners, Pépinières, Philippe Franck, Production, Projects, Soundart, Transcultures team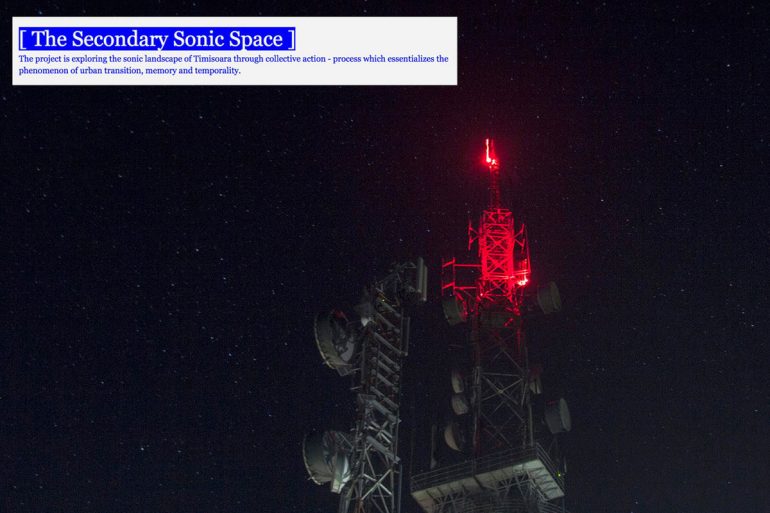 After the second workshop sound art led by Raymond Delepierre and Philippe Franck at Simultan, the 'Seconday Sonic Space' installation will be presented (before a Folklortronik concert) to the public as part of the 'Beyond the obvious' annual event organised in 2018 in Timisoara by the Culture Action Europe network in partnership with Timisoara 2021 – European capital of culture.
The installation uses the different sounds collected during the previous workshops. The sounds are are broadcast on metal plates in the middle of the space of the Experimentarium (Polytechnic University) as well as via cylinders recovered on site. Another space adjacent to that of the sound installation makes it possible to consult the blog created on this occasion as well as videos -documentaires or more abstract – realized by the Romanian artists. This multi- layered device provides a platform for observation and re/discovery of the city sonic space, processing a dynamic bank of recordings.
The Secondary Sonic Space is presented in the framework of the 'Beyond the obvious" event organized this year in Timisoara by Culture Action Europe and Timisoara 2021. This year's 'Beyond the obvious' (ctrl+shift HUMAN: Arts, Sciences and Technologies in Code Dependent Societies) will focus on that paradigm: between the fascination generated by the possibilities this hybrid and augmented condition brings, and the awareness of the new patterns that lead to redefinitions of creativity, disciplines, representation, globalization, production, labor… all within the framework of an increasing code dependence.
Informations
25.10.2018 (private Timișoara 2021 event)

26.10.2018 (opening)

Experimentarium TM

Timișoara – Roumanie
Production
Conception/coordination : Raymond Delepierre, Philippe Franck with Alex Boca, Florin Fâra, Lera Keleman, Levente Kozma, Simina Oprescu, Alin Rotariu
Initiated and co-produced by : SIMULTAN Festival / Transcultures / Timișoara 2021 – European Capital of Culture.
Partners : Culture Action Europe / Pépinières Européennes de Création / Experimentarium TM