15.05.2019 | Poésies numériques performées – lecture Jacques Donguy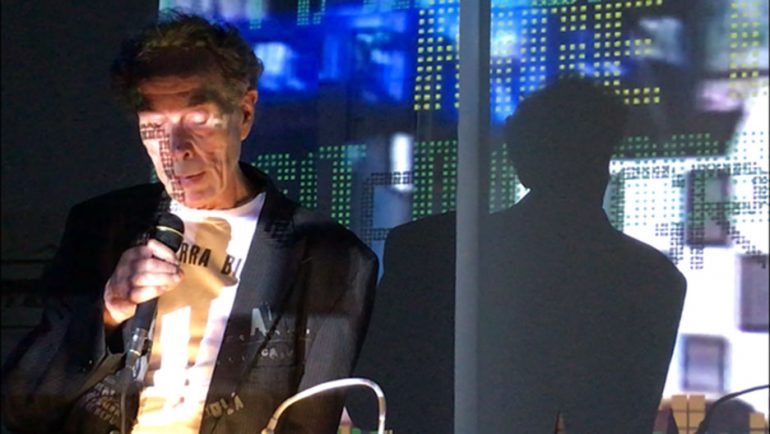 In the framework of Digital Scriptures and Intermediate Forms.
After various names such as 'electronic poetry' or 'cyber poetry', it seems that the term 'digital poetry' is used to designate this current that has existed since 1983. This period also corresponds to the dissemination to the general public of the first laptops. Among the pioneers of digital poetry are Tibor Papp, computer-based journals such as Alire (Philippe Bootz) and Doc(k)s (paper review, the series with CD-ROM or DVD-ROM), authors such as Philippe Castellin or Philippe Boisnard for the younger generation, not to mention Jacques Donguy (who has not only helped to give visibility to these creators but has also led an artistic career with several performances and installations that interact with digital technologies to question the creative process.
This presentation of French multimedia artist-critic-publisher Jacques Dongy (moderated by Philippe Franck) is accompanied by excerpts of performances and poetic-(proto) digital works and retraces this pioneering experience by putting it back in historical, artistic and technological context.
Informations
15.05.2019 – 18:30
Bibilotheca Wittockiana – 23, rue du Bemel,  1150 Bruxelles
Free
Production
Partnership Transcultures, Lettres en Voix, Bibliotheca Wittockiana
With the support of Fédération Wallonie-Bruxelles (arts numériques)
In the framework of "Reste la Lumière" – Journée internationale de la lumière – l'UNESCO
Crédits photo : Richard Piegza (peformance Festival Interaction 2018 – Varsovie)