25.05.2023 | Transonic Second Life Sessions #3 | Studio M – Second Life (Web)
Posted on

05/05/2023

in 2023, Agenda, All news, Artists, Arts Numériques, Belgium / FWB, City Sonic, City Sonic 20 years, Concerts, Distribution, Production, Projects, Second Life, Soundart, Transonic, Transonic Sessions
Since 2020, the Transonic Second Life events (sessions and festivals) have supported the creation and online dissemination of audio visual projects within the first metaverse. This third Transonic Second Life session will bring together the musicians Yadleen (Dream music), Echo Starship (Live ambient) and A Limb (Live electro) before the next edition of the festival which will take place in the Summer 2023.
Yadleen (De) - Performance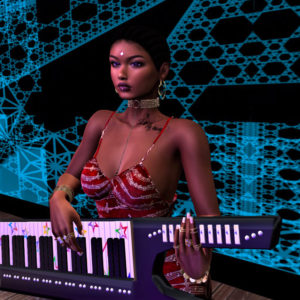 Yadleen started producing electronic music in 2012. She never had any musical education and learnt from the start how to play instruments. Since then she attended audio engineer classes. Her main tool for composing and producing music is a DAW (Digital Audio Workstation) – a PC program – to compose and produce music. She mixes very different styles in her songs: electronica, ambient, jazz, lounge, experimental, industrial, traditional music from all around the world… Even if some of them seem to be totally opposite, she always manages to combine them in a very harmonious way. Her music obeys only to her own rules.
She started Second Life concerts in 2015. Sometimes she performs improvised live sets. Many of her music sets are composed for special events, like exhibitions openings or visual performances. A few of these concerts have been a "cooperation" between events in the real world synchronized with Second Life events. Artists from both worlds could see and listen to each other. One of these events was the LIT UP poetry Festival of Singapore in 2018. She also produced musics for several "machinimas" (videos produced in virtual worlds).
Echo Starship (Mk)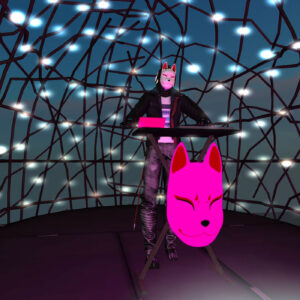 Martin Georgievski (Skopje, Republic of Macedonia) multimedia project. It takes form as a live improvisational exploration of experimental, ambient, contemporary classical, and drone music with performances at various festivals, venues, and internet streams.
Forming a generative spectrum of sounds in long improvised sessions and recordings, Amplidyne Effect records using an arbitrary selection of instruments ranging from electric guitar, prepared instruments, field recordings & samples, synthesizers, electronics, piezo microphones, and other types of "odd" instruments.
A LIMB (Be)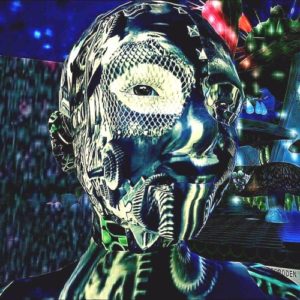 Didié Nietszche (Radio Prague, 48 Cameras, Lamaφ, Neptunian Maximalism) solo project, A Limb is a kind of artistic Frankenstein, exhuming all sorts of music corpses from their graves, stitching an ambient body with funk legs, punk feet, experimental arms, jazz hands, a drone head, inserting a big ethnic music heart and krautrock lungs… then bathing the whole "body" in a dub bath, until an electro thunderbolt strikes him and he is… alive! Yes sometimes science goes too far, but it is too late to go back.
A Limb also likes to experiment on his own skin, changing regularly into a mutant monkey, a mirror ball, a dancing rabbit, an alien lizard… A Limb regularly plays at Cat's Circus, Burn 2 (official virtual version of Burning Man) and for several special events; it is often accompanied by a live visual of SaveMe Oh (PB).
A LIMB @ Cat'S CIRCUS - Second Life (2018)
Informations
23.05.2023
21:00 (Paris/Brussels/Berlin) – 00:00 (Second Life Time)
Free
Production
Coordination : Didié Nietzsche, Philippe Franck
Transonic Label – Transcultures – European Pepinieres of Creation
In the framework of City Sonic 20 Years
How to attend the event?
Please note: attending this event live requires registration in Second Life, downloading software and getting started with it (you will easily find tutorials on the Web depending on the software downloaded). We advise you to do the necessary at least one day before the event in order to familiarize yourself with the sometimes not very intuitive controls of this software. For those who would not be able to connect to Second Life, a video streaming solution on Youtube is under consideration. It will also be possible to follow the concerts in audio streaming.
Second Life website: secondlife.com
Firestorm, the most used software to access Second Life : firestormviewer.org