26.05 > 05.06.2023 | Kotryna Žilinskaité (Lt) + Hasan Alp Çelikel (Tk/Lt) – City Sonic residency | Transcultures (Be)
Posted on

10/05/2023

in 2023, Agenda, All news, Artists, Belgium / FWB, City Sonic, City Sonic 20 years, International, Partners, Pépinières, Production, Projects, Résidences, Soundart, Video Arts
In the dynamics of the 20th anniversary of the City Sonic, the international sound arts festival (initiated in 2003 by Transcultures) which is also a platform of exchanges for those various creative audio fields,  began to spread in different forms (events/performances, workshops, exhibitions, etc.) involving Lithuanian, Belgian and French sound and intermedia artists, in Vilnius and more broadly in Lithuania, thanks to partnerships with Užiateka and Oasis of the Arts, cultural structures coordinated by Kotryna Žilinskaité who is also an interdisciplinary performer. She is hosted in residence at Transcultures to develop partnerships – via City Sonic – between Lithuania and the Federation Wallonia-Brussels.
The artist Kotryna Žilinskaité is accompanied by sound and visual artist Hasan Alp Çelikel (Vilnius) with whom she collaborates regularly and who has also actively participated in several City Sonic events in Vilnius, including the 'City Sonic Vilnius Spring Soundcamp' in March 2023.
Kotryna Žilinskaité (Lt)
After starting her artistic career in the performing arts from childhood at the age of eight, she grew up in children's and teenagers' theater, later she obtained a bachelor's degree in theater at the Lithuanian Academy of theater and music.
Since then, Kotryna has organized festivals, concerts, made videos and plays, created and participated in interdisciplinary or choreographic performances and happenings (often marked by Butô) with numerous collaborations, and led various creative workshops.
Kotryna created, in Vilnius, the cultural space "Užiateka", founded the art therapy space "Oasis of the Arts". She studied music therapy at Vilnius University. She is also the coordinator of City Sonic Vilnius (platform for sound arts) in connection with Transcultures (Centre for digital and sound cultures -Belgium) and its international festival of sound arts City Sonic.
Hasan Alp Çelikel (Tk/Lt)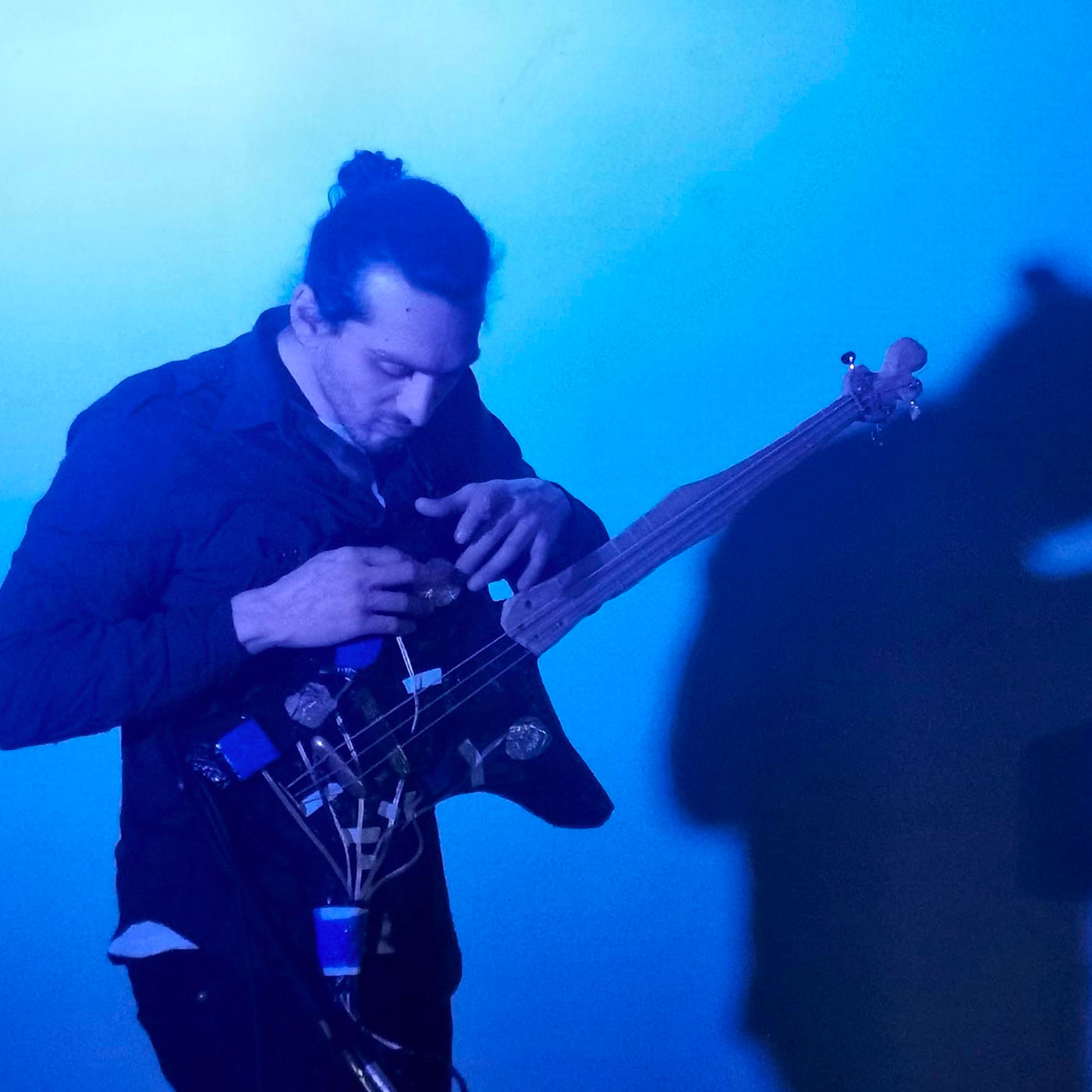 Of Turkish origin and based in Vilnius for a few years, Hasan Alp Çelikel is an interdisciplinary creator who works in visual, performance arts, design and improvised music.
He began his career as a progressive lead guitarist in various Canadian bands while studying visual art at the Nova Scotia College of Arts and Design University. Later, he obtained a bachelor of arts and studied ceramics at the faculty. He then explores the sound sculpture created using Cymatics and, since 2016, the design of melodic percussion instruments.
Now based in Vilnius, he creates paintings, practices Butō and contemporary dance, writes songs in English, Turkish or guest language and instrumental experimental music. His spontaneous approach aims to illuminate alchemy and capture the magic moment through his paintings, sculptures, performances and sound happenings.
Informations
26.05 > 05.06.2023
Transcultures La Louvière
Production
With the support of Transcultures and the Goethe-Institut/Culture Moves Europe programme.
In the framework of City Sonic 20 Years.