31.05 > 05.06.2023 | From one world (sONic) to another – Tommy Lawson (TG/Fr) – ARTour Residency | Transcultures (Be)
Posted on

12/05/2023

in 2022, Agenda, All news, Artists, Belgium / FWB, International, Partners, Pépinières, Production, Résidences, Soundart, Transonic, Transonic Residences
After a first period of residence in La Louvière (Belgium) at the end of April 2023 and a location of the points of his future geolocated itinerary   "D'un monde (sONore) à l'autre" ("From one world (sONic) to another" – created for the fourteenth edition of the biennale of contemporary art and heritage ARTour which opens June 25 until September 10), in order to develop a "map of the territory" woven with sounds, the French sound artist and sound designer Tommy Lawson returns to be hosted by Transcultures in order to record sounds in the " city of wolves".
From sound fragments ("field recordings") captured in situ, Tommy Lawson arranges mini-stories or sound "postcards", whose augmented listening through headphones (via the Soundways application) reveals the great musicality and the landscape dimension
The objective is  here, more generally, to apprehend the urban territory of the city, by mobilizing and sharpening the sense of listening, in order to generate by a process of sound phenomenology new representations which reveal new landscapes with also an attention particular to the imagination of these "in between worlds", the theme chosen for this edition of ARTour.
Tommy Lawson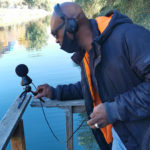 Sound artist, sound designer, digital art performer. He is also a producer and curator of events for the promotion of electronic music. He develops projects combining electronic and electroacoustic music. Deeply attached to the idea of ​​transversality between the arts, he produces numerous music and soundtracks in collaboration with the plastic arts, video-art and contemporary dance. He develops in collaboration with Armand Lesecq tools for digital audio creations and computer lutherie in the field of sound spatialization. He regularly carries out geolocated sound walks towards the public in order to allow them to live an augmented sound experience in connection with the intangible heritage of a territory. He is at the initiative of the first video mapping carried out in Corsica with the Tunisian collective Design Lab on the occasion of the reopening of the Bastia museum in 2009 of a series of video mapping as part of the European Heritage Days.
In 2008, he created Zone Libre, a  structure dedicated to creation, production and distribution through which he has organized the eponymous Festival of Sound Arts since 2019, between art, science and new technologies. This event of support for creation emphasizes the development of transdisciplinary and hypermedia experiences in the field of sound and visual arts.
Informations
31.05 > 05.06.2023
Transcultures La Louvière