22-04-2015 – Sound'Up#4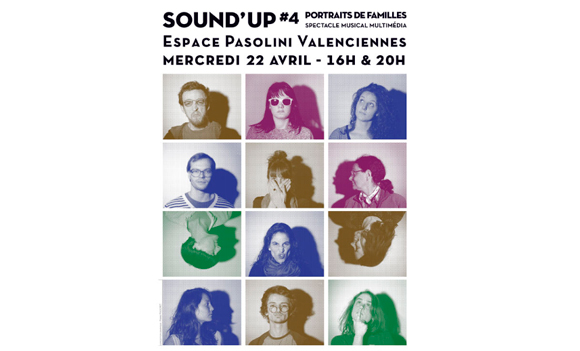 The 'Sound Up' events are showcases-performances (whose previous editions were presented in Mons ) of a hotbed of artists that revolve around and within Art Zoyd, musical and artistic creation centre (Valenciennes).
12 portraits or « snapshots » who make up a « family of Home »unique and ephemeral: the one we chose for a show, for a shared stage space. 'Sound Up #' 4 offers 12 games as much of writes crossed, connecting music, dance, theater, picture, plastic art, and creations 12 productions who work through technology, with voice, text, traditional instruments, creating and the discovery of differents imaginary…
Créations by Sophiane Baranek, Sarah Belli, Cinzia D'Angelis, Romain Dimarq, Raphaëlle Duquesnoy, Sophie Glanddier, Anne-Claude Iger, Lise Jacob, Stéphanie Laforce, Pierre Mascret, Morgane Morot-Bizot & Aurélia Thomas.
André Serre-Milan, artistic direction – Carl Faia, computationnel music – Florent Meunier.
Direction of Gérard Hourbette.
Informations
22/04/2015 – 16:00 & 20:00

2 Rue Salle le Comté, Valenciennes

Free
production
Production : Art Zoyd.