Paradise Now – Migrations (CD) | Transonic Label
Posted on

01/06/2018

in 2018, Agenda, All news, Artists, CD, Edition, Isa Belle, Paradise Now, Paradise Now stuff, Philippe Franck, Production, Projects, Soundart, Transcultures team, Transonic, Transonic Catalogue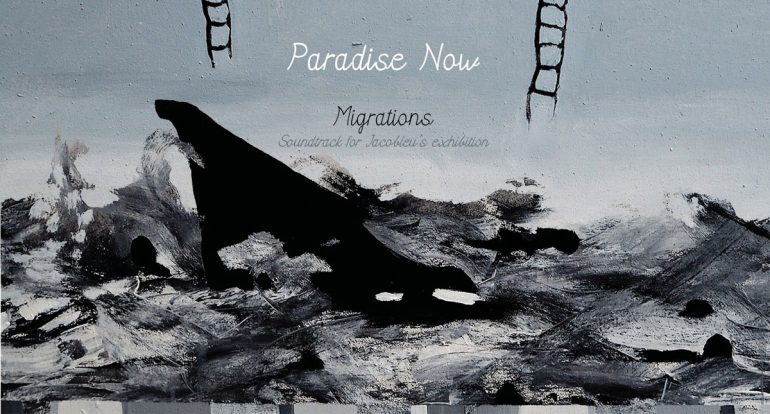 Born in the meeting between an Ivorian visual artist Jacobleu and a French-Belgian sound artist Philippe Franck (aka Paradise Now), this dozen impressionistic, electronic, organic soundscapes composed especially for the traveling exhibition Migrations dialogues freely with the pictorial works, inviting the listener-visitor to participate in a journey of waves and fluxes.
It refers us both to the dramatic reality of these thousands of nameless migrant people and to the imaginary associated with the desperate quest for a better world, but also with the superhuman life energy that drives them. As guests at the side of Paradise Now for this "made to measure" digipack album (numbered limited edition) rich in pictorial reproductions and texts: Isa Belle and its Tibetan bowls and gongs, Alain Wergifosse electronic treatments and Christophe Bailleau synthetic sequences.
Paradise Now
Cross-cultural and sound designer, producer, curator, creator based in Belgium, Philippe Franck has developed the Paradise Now project since the 1990s, which favors an actively transversal and collaborative approach. He has worked closely with various video artists (Régis Cotentin, Hanzel & Gretzel), poets (Ira Cohen, Gerard Malanga, Werner Moron with Les ours bipolaires, Eric Therer within & Stuff), choreographers (Nadine Ganase, Manon Oligny, Karine Ledoyen…), digital artists (Philippe Boisnard, Franck Soudan, Jacques Urbanska) and other musicians (recently Christophe Bailleau in the duo Pastoral, Gauthier Keyaerts with Supernova). Since 2005, he has been working closely with holistic masseuse/performer Isa Belle for a series of installations and sound performances shown in many international festivals/events, cultural centers/ museums. He has also produced and participated in several records on various independent labels (Sub Rosa, Optical Sound, Transonic …).
Crédits Paradise Now | sauf :
#11 > Paradise Now & Christophe Bailleau
#4, 5 > Paradise Now & Isa Belle
#5, 6, 12 > Paradise Now & Alain Wergifosse
Paradise Now> guitare, ipad, synthé, chant, harmonica, bols chantants, traitements électroniques
Isa Belle> bols tibétains, bol en cristal, gongs, clochettes, objets rituels # 4, 5, 6
Alain Wergifosse> traitements électroniques # 5, 6, 10, 12
Christophe Bailleau> séquences synthé # 10, 11
Migrants camerounais battus par des policiers espagnols > cris # 6
Marc Doutrepont > mastering
Matthieu Safatly > design
Informations
06.2018

Transonic Label

digital : 7€ | CD : 10€
Production
production : Transonic Label, Transcultures & Lebasquiat Art Gallery