28.11.2021 | No Lockdown Sonopoetics #2 – Sound poetry performances | ARTour (Be)
Posted on

26/10/2021

in 2021, Agenda, All news, Artists, Belgium / FWB, Concerts, Creaconnections, NoLA, Paradise Now, Partners, Pépinières, Philippe Franck, Poetry, Production, Projects, Sonopoetics, Soundart, Transonic
As part of the No Lockdown Art project launched during the first global confinement in March 2020, Transcultures and the European Pepiniers of Creation asked several authors from different countries to write their poetic impressions, reflections, issues during the confinement. These "confined correspondences" have been the subject of sound, either by the authors themselves, or by other sound artists with creations of various aesthetics which speak to us so much about these viral times than more broadly our societal but also emotional changes.
These three performances (creations) – in the No Lockdown Sonopoetics series of events offered in different contexts – very freely testifying to this particular period, associate, in duo or trio, artists (each having their own autonomous universe) supported by the Transonic label. (which launched the Sonopoetics department, a link between living literature and sound creation) dedicated to other audio adventures.
Maja Jantar + Paradise Now | Spell light
Maja Jantar, multilingual and multi-tone vocal artist and Paradise Now, multifaceted audio creator, combine their universes mixing poetry, singing, electronic processing, field recordings and guitaristic interventions to create intimate and sensual pieces.
Maja Jantar (PL/NL)

Of Polish origin, living in Belgium for several years, Maja Jantar is a multilingual and polysonic vocal artist whose work covers the fields of performance, musical theater, poetry and visual arts. Co-founder of the Krikri group, she has given solo and collaborative performances across Europe. She has been working on poetic sound works since 1995. From 2001 until today, Maja has conducted ten operas, including the Monteverdi classic, Incoronatione di Poppea and the contemporary Infinito Nero by Sciarrino. Some of his visual poetry has been published in various publications, among others the book Zieteratuur (Nl), and his visual work has been shown in several exhibitions, recently a selection of ink and paper from his Lilith series could be seen at Kunsttempel Kassel (De). This year, she also participated in the collective exhibition La Voix Libérée at the Palais de Tokyo (Fr). Finally, she continues to collaborate with Belgian (including – regularly – Vincent Tholomé) and foreign poets (Angela Rawlings, Steven J. Fowler…) and interdisciplinary artists.

Paradise Now (BE)

Paradise Now (BE/FR) : Intermedia producer and creator based in Belgium, Philippe Franck has developed since the 90s the Paradise Now project which favors an actively transversal and collaborative approach. He favors a sensitive and cinematic approach that embraces different influences and fields (electronics, sound art, post-rock, post-pop, improvised music …). He has worked closely with various videographers (Régis Cotentin, Hanzel & Gretzel), poets (Ira Cohen, Gerard Malanga, Catrine Godin, Biba Sheikh, Werner Moron in Les ours bipolaires, Eric Therer for the project & Stuff), choreographers (Nadine Ganase , Manon Oligny, Karine Ledoyen), digital artists (Philippe Boisnard, Franck Soudan, Jacques Urbanska, Thomas Israël) and other adventurous audio creators (recently Christophe Bailleau within the duo Pastoral, Gauthier Keyaerts in Supernova, Stephan Dunkelman, Maurice Charles JJ, A Limb). Since 2005, he has also collaborated with holistic performer / masseuse Isa Belle for a series of installations and "sound" performances shown in numerous festivals, cultural centers and international events. He has also produced and participated in several records on various independent labels (Sub Rosa, Optical Sound, Transonic…).
VTGK | Remix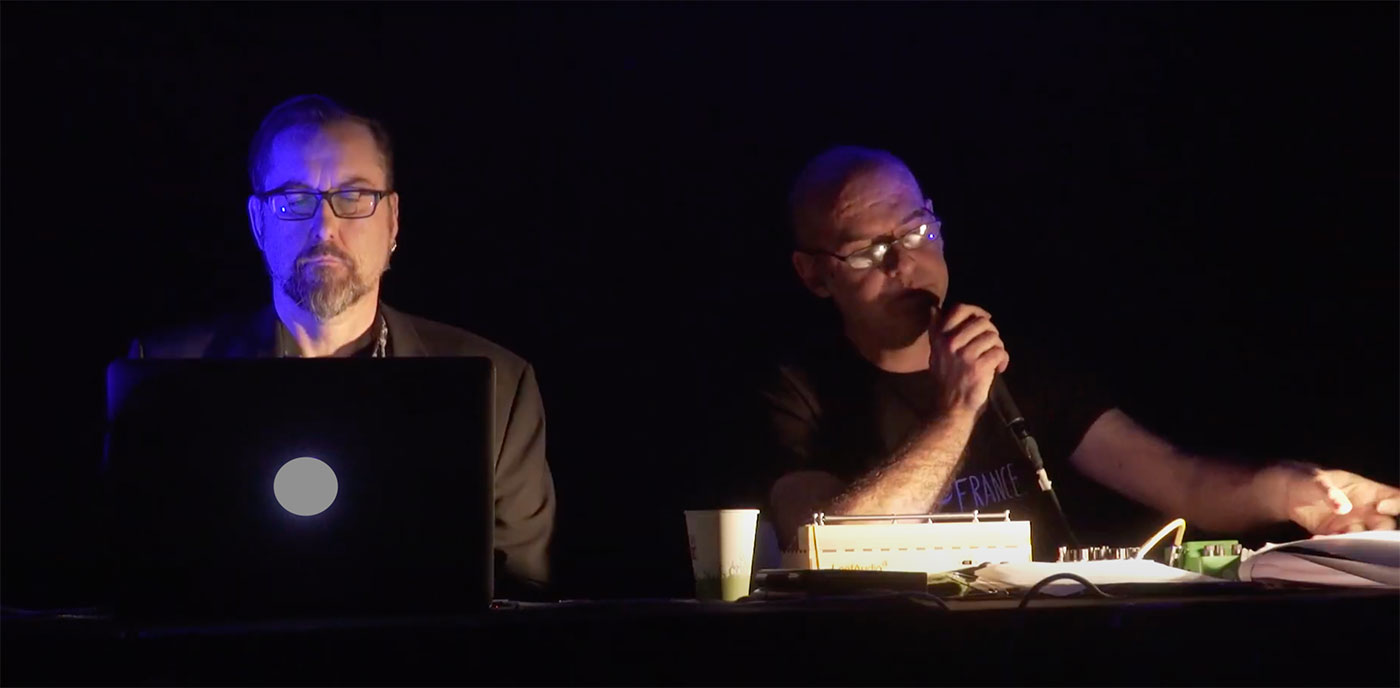 "Remix is ​​a performance where you remix the sounds, where you remix the lyrics. We arrive on stage with our toolbox, our sound reserves, our text reserves. We chew them and chew them again. They are cut into pieces. It ends up making a story invented in the instant, invented in the second. Remix is ​​a performance where you tan under a black sun. "
VTGK is the duo bringing together Vincent Tholomé (reading, sound manipulation) and Gauthier Keyaerts (electronics).

Vincent Tholomé (BE)

Vincent Tholomé defines himself as a poet but also as a performer, at the crossroads of sound and verbal improvisations. Ex revuist (ttc, facial), ex member of the ex Big Band of Ferocious Literatures (with or without teeth), ex member of the crossroads of sound and verbal improvisations [kwad], ex poet by default, Vincent Tholomé has multiplied the adventures and meetings, getting involved in a good number of collective projects. He has been  seen / heard in duet projects with Sebastian Dicenaire, Maja Jantar and Laurence Vielle, and  in a quartet with Charles Pennequin, Thierry Aué and Arno Calleja. As an author, Vincent Tholomé has been publishing for twenty years, both in France and in Belgium. His work can also be read on the net and in various magazines.

Gauthier Keyaerts (BE)

Sound artist (several albums published on Sub Rosa and Transonic as well as installations and performances broadcast internationally) and interdisciplinary, he questions matter through sound and still or moving images, in an interactive and complementary manner. He bases his creation on two essential elements: a radically materialist approach, a real call to rediscover our senses, whether through sound or image, and a desire to communicate with the public, to generate a space for reflection. free and open. His favorite subjects are life, nothingness, the beauty of insignificance, the elements, time, memory.
Les Ours Bipolaires | Open letter to windows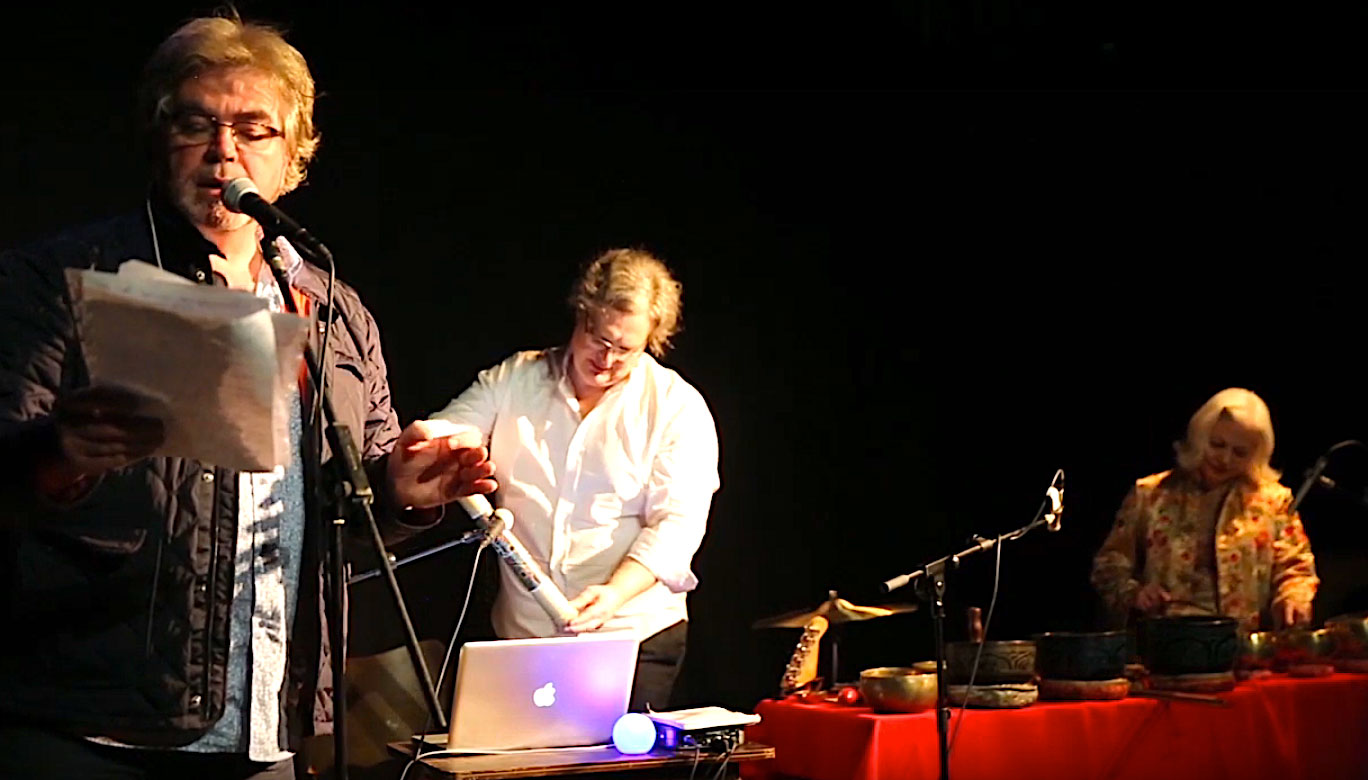 Initiated in 2014 by Werner Moron (author, visual artist, paracommand'art) and Philippe Franck (sound and media creator, artistic curator), Les Ours Bipolaires (the Bipolar Bears) project has developed over performances presented in Quebec and Belgium with in regular guest, Isa*Belle (Tibetan bowls, gongs, hand drum), by associating a poetic vision (texts by Werner Moron) with a cinematic and traveling sound universe (electro-guitaristic landscapes by Philippe Franck with the vibratory / organic contribution of Isa* Belle). Each Ours Bipolaires performance is a site specific creation that also leaves room for improvisation.
Werner Moron (Be)

The artist from Liège has for many years developed a plural artistic approach based on a permanent critical distance from the art market. For this, he chose to stage acts, performances or events that involve the participation of the spectator, as subject and as citizen, solicited in a dialogue.

In order to experience the world, a concrete world, Werner Moron constantly varies the places of intervention and mixes the modes of artistic expression and the modes of production: paintings, drawings, installations, performances, conferences-performances, in institutional places. or non-institutional, public or private, where the participation of a spectator is constantly requested.

Philippe Franck (Be)

Art historian, designer and cultural critic, producer, sound and media creator, Philippe Franck is director of Transcultures, Center for digital and sound cultures. He is the founder and artistic director of the international festival of sound arts City Sonic (since 2003) and of the Transnumériques, biennial of digital cultures (since 2005) in the Wallonia-Brussels Federation.
At the same time, since the early 1980s, he has been developing a multifaceted artistic journey and has produced numerous choreographic music (for Nadine Ganase, Manon Oligny, etc.), performance, videos (in particular for Régis Cotentin, Hanzel & Gretzel and Thomas Israël), installations, geolocated journey… and in 2014 co-directed the film Bernard Heidsieck, poetry in action (which was also the subject of the DVD book-box Variations sur Bernard Heidsieck).
philippefranck.eu

Isa*Belle (Fr/Be)

Practicing for twenty years, holistic and sound massages integrating different techniques acquired from Indian and Tibetan masters and integrating these experiences into his artistic approach working around the body and the senses in their multiple dimensions, Isa Belle has participated in various short films and performances by collaborating with several visual, interdisciplinary and sound artists (Maurice Charles JJ, Gauthier Keyaerts, Ariane Chessaux, Ours bipolaires, Stephan Dunkelman…).

Since 2005, she has been working with Paradise now (electronic processing and sound design, texts and co-design) on several installation and performance projects (presented in many places and international festivals) appealing to all the senses and the participation of the spectator invited to indulge in sensory experiences unprecedented in the world of contemporary art.
Production
Transcultures, Ars Musica – in partenership with : MiLL, Central and European Pepinieres of Creation.
ARTour 2021: Central with the support of the Wallonia-Brussels Federation. General Commissioner. Partnership: Joseph Faucon Cultural Center, Daily-Bul & Co Center, Collegiate Church of Saint-Vincent, MILL, Museum of Mining and Sustainable Development, Le Gilson, Centrissime, Galerie Nardone, Théâtre de La Louvière, Provincial Library, Espace Victor Jara, Transcultures.