21 > 22.06.2023 | Aperghis (Gr/Fr) Performances – Nuit du Beau Tas 2023 | Jardin de l'Hospice (Bruxelles – Be)
Posted on

20/05/2023

in 2023, Agenda, All news, Artists, Belgium / FWB, City Sonic, City Sonic 20 years, Concerts, Nuits du Beau Tas, Partners, Production, Projects, Soundart
Two performance evenings around the composer of Greek origin living in France Georges Aperghis. Particularly interested in "musical theatre", he explored the sound of speech in an original way in several vocal and lyrical works that solicit the participation of the performer.
"Impressions of movements. Suspension of trajectories in an aerial visualization like the resonance of a flash in the eye. The shadow becomes an infinite space to dance. From visible to invisible, the sound weaving affirms a carnal tension. The body lets itself be impregnated with darkness and light, wandering on the white and black notes of the piano. The place is paved at the same time as the instrument. Its dome amplifies the presences. Then takes place an incantation, of a depth almost religious, even if its nature is precisely hastened by it."
Bénédicte Davin and Eve Bonneau will be accompanied by Pierre-Jean Vranken (Quasi una fantasia, Ze Zorgs) on the piano.
Bénédicte Davin (Be)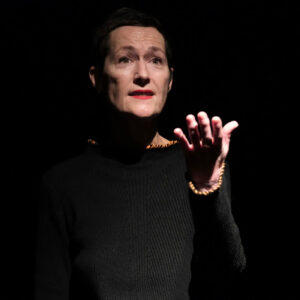 inger and performer of contemporary music, Bénédicte Davin, following her exploration of Lettrist and Dadaist music, has developed her own sound and rhythmic writing for the stage. Her training took her from French songs to rock and improvisation.
She has performed in various musical groups: Champ d´action, QO2, Les boudoirs de la marquise. Her career also led her to collaborate on the projects of various directors: Laurent Wanson, Michaël Delaunoy, Axel de Booseré, Alain Wathieu, Louis Ziegler.
Eve Bonneau (Fr)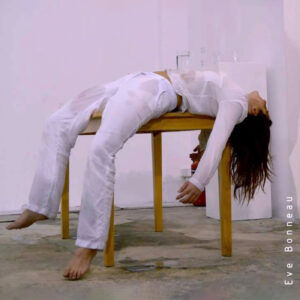 Eve Bonneau is a performance artist based in Brussels. She trained in classical and contemporary dance at the National School of Dance in La Rochelle in France and at P.A.R.T.S in Brussels. She also followed in parallel the body work of the psychomotrician Jacques Garros.
It was after her meeting with the London performer Robert Pacitti that Eve became involved in Performance Art with "Body is the first word I say". Her research project on "being there" called "ÇA" is developing in Brussels through her interventions as a lecturer at the École La Cambre in the "body arts and performance" section, but also in the form of a public laboratory. at La Bellone (Brussels). This last public form determines his approach and artistic policy.
Over the past seven years, Eve has made interventions particularly in France, Belgium and Mexico through in-situ performances. His latest performances also seeped into Poland, Germany and Austria. She is also a performance curator.
Eve Bonneau (Fr)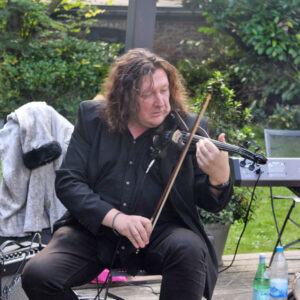 Pierre-Jean Vranken (Be) studied musicology, composition in electro-acoustic music and musical analysis with Brian Ferneyhough and Franco Donatoni. Influenced by rock and contemporary music, he is also in the movement of "minimalism" Morton Feldman.
Former programmer at the Botanique, he organizes the Nuits du Beau Tas, alternativo-iconoclastic festival tempted by dissidence, from wrestling to contemporary music. He is also part of the duo Quasi una fantasia (Be/At) with Christina Van Peteghem.
Informations
21 > 22.06.2023
Jardin de l'Hospice
Rue du Grand Hospice 7, Bruxelles10/5 € (unemployed)
Booking recommended: pierrejeanvranken@gmail.com
Production
Nuits du Beaux Tas.
With the support of Transcultures. As part of City Sonic 20 Years.